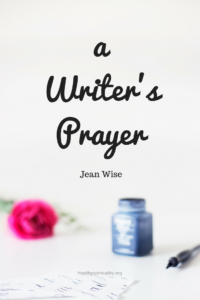 I wrote a Writer's Christmas Prayer as part of an assignment for my local writers' group.  Our homework was to create a fiction/nonfiction story or poem to answer the question: What do I want as a writer for Christmas? Our inspiration included all sorts of gift ideas for writers. Thought you may want to see a few of the ones that were fun and stood out for me:
Jane Austen Socks – so fun!
Antique Style Wood Folding Travel Writing Lap Desk – so cool!
Go Away I'm Writing Tee Shirt – brought a smile to my face



But I digress…or I will be wishful shopping all afternoon.
Back to my writing assignment. I was at first going to explore physical gifts like these or even imagine a far away writing retreat but then the muse called me to listen.  I wrote a Writers Prayer instead and thought I would share it here today.
A Writer's Prayer
Dear Lord,
What do I want this year as a writer? What gifts await me in 2017 as a communicator? Where are you inviting me to grow this coming season?
Here are my ten desires as a writer:
Ideas –  Lord, you are the great communicator. When my well dries up, you are the refreshing unending spring of new ideas. Shower me with your thoughts, your point of view, your creativity this coming year.
Words – You are the Word and source of all words. May my words, whether spoken or written, overflow with beauty and goodness, pointing ever to you.
Voice – I want to hear your voice and let it guide my voice. Psalm 29 tells me the voice of the Lord is powerful and majestic. May you speak with strength and shine with splendor in all my works.
Story – Help me find my story within your story, so I can help others discover their stories within the greatest story ever told.
The Dance. Lord, poets and writers dance with words. We gather and sting ideas, settings, characters together in a great ball room and sprinkle them with rhythm and rhyme. I want to write with a cadence to the heartbeat of language. Carl Sandberg wrote, "Poetry is an echo, asking a shadow to dance."  I know my work is but a shadow of your presence, but I ask to hear your music and feel your gentle touch as we dance together with words.
Paint – Writers are word painters, Lord. I can't draw at all with a paint brush or colored pencil, but with language I become an artist. You have given me words as my primary tool to fashion images by mixing the vowels and consonants together into scenes of beauty. Show me how to grow in my craft, so my word paintings transform into colorful murals.
Imagination – Lord, expand my imagination with your vision of worlds yet to be. I love the Hans Christian Anderson quote that every person's life is a fairy tale written by God's finger and I so deeply desire to create tales and stories of promises, possibilities and hope that inspire others to discover and explore full and meaningful lives.
Courage – Grant me courage to leap into new adventures and soar into your strength to express what I hid but what may help others heal.
Time – Help me be a better steward of your gift of time. Not to waste those precious moments, but find the treasures in each wonderful second of life.
Your Presence – Lord I am nothing without you. I can't write, speak or even breath without your help.  May I give you my undivided attention, sit at your feet and learn, and follow your light in all my writing. I give you the glory.
Amen.
What do you want for Christmas?