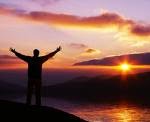 "
We bring nothing at birth; we take nothing with us at death. The Lord alone gives and takes. Praise the name of the Lord!"     Job 1:21 (Contemporary English Version)
Job lost everything, Lord, and how did he react?  Did he curse You, ignore You, and deny Your existence? Did he whine, beg, or bargain?  No, he did only one thing:  he lay before You in worship. 
You hold everything in Your hands while I stumble through life falsely believing I am in control.
My heart's desire, Lord, no matter in times of blessing or in times of sorrow, is to praise your name.
You alone are the Lord. You alone give us everything we cherish – families, friends, life itself.
You alone know what the next minute, hour, year will bring.
You alone fully understand the depth of shattered dreams, the pain of lost loved ones, and the heartbreak of betrayal. 
Daily I place my hopes, dreams, sorrow, disappointments, anger, bitterness, blessings, family, friends, writing, speaking, travel, worries and all I possess on Your altar, trembling as I let go. My eyes focus only on You, not the people and items I cling so dearly close to my heart. This is hard, Lord, to fully trust you, but I find my faith grows in the soil of praise.
Praise the name of the Lord.