I have spoken these words while I am here with you. 
The Father is sending a great Helper, the Holy Spirit, in My name to teach you everything and to remind you of all I have said to you.
 My peace is the legacy I leave to you. I don't give gifts like those of this world.
 Do not let your heart be troubled or fearful. 
You were listening when I said, "I will go away, but I will also return to be with you."
 If you love Me, celebrate the fact that I am going to be with the Father because He is far greater than I am.
I have told you all these things in advance so that your faith will grow as these things come to pass.
John 14: 25-29 (The Voice)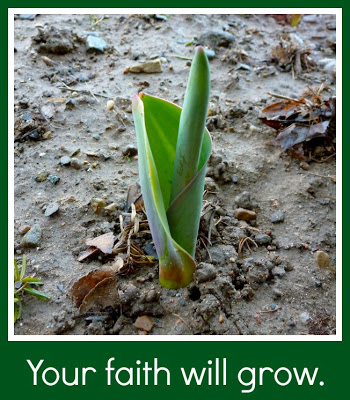 I have told you all these things in advance so that your faith will grow
I thought I would dutifully pray about Your great Helper, the Holy Spirit.
I should write inspirational words of You always being with us.
My ego properly makes notes of Your love and legacy of peace.
But other words leap into my heart today, Lord.
Jesus said, "Your faith will grow."
Jesus knows that my faith isn't dead, dormant or locked away neglected in some hidden place of my heart.
Lord, I can almost hear You emphasize the word "will."
An "I said so, so it will be."
I hold this pledge like a fragile piece of art, priceless and beautiful.
This current empty shell of beliefs and misperceptions of You will expand.
Your love poured into my faith will swell it beyond the edges of unbelief.
I will see with new eyes not just my ideas of You, but deeper glimpses of Your goodness.
Lord, Your promise fills me with hope this morning.
I know someday, somehow, with Your power, my faith will reflect You in clear light, no longer veiled or broken.
I cling to Your promise, Lord.