My eyes filled up with tears. Maybe I was just tired or maybe it was the message so many shared that day. I do know and agree with the Frederick Buechner quote:
"Whenever you find tears in your eyes, especially unexpected tears, 
it is well to pay the closest attention. They are not only telling the secret 
of who you are, but more often than not of the mystery of where you have come from and are summoning you to where you should go next."
So I paid attention to what they said:
"I am not good enough."
"I am never enough."
"I don't deserve God's love."
I shook my head along with the knowing I too struggling with that false belief.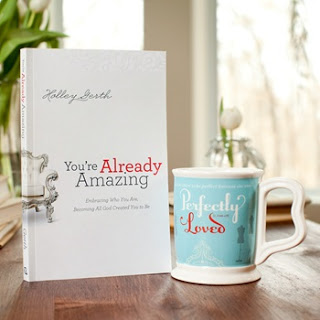 We need to hear a new message. Perhaps that is why I like Holly Gerth's new book,
You're Already Amazing – Embracing Who You Are, Becoming All God Created You to Be.
What a phrase to ponder. What intrigued me though, was the front cover of the book and how the title emphasized the word
ALREADY
. Just think how our lives would change if we really lived as if we were
ALREADY
amazing.
Besides a creative writer, Holley is a licensed counselor and life coach. This book is full of wisdom and fun tools and exercises to learn to know ourselves better, but not written academically like some counselors would do – but written from the heart of one friend to another. For example identify your strengths, find your skills, and analyzing your emotional style.
This easy to read book overflows with encouragement and hope. I think it would be fun small group book discussion (there are discussion guides for each chapter in the back of the book) and a great gift to give a friend.
In the final chapter Holley not only summarizes in a heartfelt encouraging way but writes poetic hope in each section:
You're loved
More than you know.
More than you see.
Deeper than you've even dared to dream.
All that you fear holds you back
Has been wiped away, forgiven,
covered up by grace.
And the One who created you,
Knows you, calls you His own
looks at you with love
And says, "You're mine forever."
Your heart has a home-
And it's not a place
But a Person who will never let you go.
This is a message I will repeat to myself next time I feel I am not enough.
This is the message I pray those who shared the same feeling with me at the retreat will also hear and know in their heart as truth.
We are His Beloved. We are already amazing.
Thank you Holley!
Disclosure: You're Already Amazing is published by Revell, a division of Baker Publishing Group, which provided a free copy for my review. The opinions expressed here are my own.
InCourage is featuring Holley's book this month in a book club discussion beginning Monday, March 26. They are also hosting a giveaway at their site. Click the
InCourage link for details.