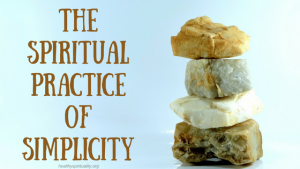 The spiritual practice of simplicity is this month's Tending the Holy topic. Each month on my Thursday posts, I pick one theme (or person of faith) to explore deeper.
Last Thursday I introduced simplicity, looking at its definition and insights about this easy to talk about, but hard to do subject. Next week I will list some practices we can try to create more simple approaches in our living.
Today though, I want to share with you some quotes to ponder and take you deeper into spiritual practice.
10 Quotes to Ponder about Simplicity
Which one of the follow resonates most with you?  Challenges you?  Makes you want to copy it and put it in your journal? Take at least one of the quotes and "chew" on it more, allowing the words to open your heart to this practice.
Simplicity is making the journey of this life with just baggage enough.
Charles Warner
******
Beware the barrenness of a busy life.
Socrates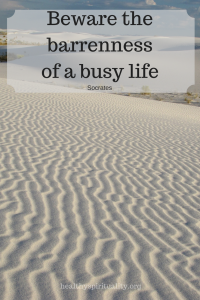 Simplicity is the final achievement. After one has played a vast quantity of notes and more notes, it is simplicity that emerges as the crowning reward of art.
Frederic Chopin
******
The ability to simplify means to eliminate the unnecessary so that the necessary may speak.
Hans Hofmann
******
That's been one of my mantras – focus and simplicity. Simple can be harder than complex: You have to work hard to get your thinking clean to make it simple. But it's worth it in the end because once you get there, you can move mountains.
 Steve Jobs
******
Everything is both simpler than we can imagine, and more complicated that we can conceive.
Goethe
******
I am beginning to learn that it is the sweet, simple things in life which are the real ones after all.
 Laura Ingalls Wilder
******
Plain question and plain answer make the shortest road out of most perplexities.
Mark Twain
******
Simplicity is the only thing that sufficiently reorients our lives so that possessions can be genuinely enjoyed without destroying us.
Richard Foster
******
For where your treasure is, there your heart will be also.
Matthew 6: 21


The unfolding of your words gives light; it imparts understanding to the simple.
Psalm 119:130
Simplicity begins with God. Centered on God. And is a gift from God. Time to unwrapped this gift in my life. How about you?
If you haven't signed up to get Healthy Spirituality in your email (I only post twice a week) this is a great time to do this, so you don't miss more about simplicity next week.
And you may want to check out my latest book, Fuel your Faith, is now available on Amazon, both as an e-book and a print book. Happy Dance!
Let's talk.  Which quote struck you the most about simplicity?