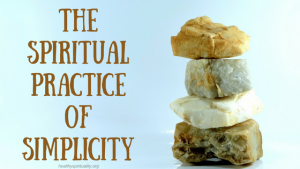 Simplicity often makes the bottom of my list of the favorite, most, appealing, and "wow I need to do this" desirable disciplines for me. I feel bad admitting my reaction, but I neglect and put off this practice.
We live in a complicated world, overflowing with noise, expectations, and loaded calendars, but there is voice inside me whispering "keep it simple, silly." I know living simply calls to me, so decided to explore the spiritual practice of simplicity this month on the Tending the Holy Thursday series. Each month on my Thursday posts, I pick one theme (or person of faith) to explore deeper.
Today I will share some insights about this topic and next week, 10 quotes to ponder and deepen our journaling about this topic. Then the third week I will list some simple practices we can try to implement this practice in our daily lives.
I am giggling as I write this, thinking how ironic it is to write about simplicity and attempting to keep the topic simple. Ahh, my first lesson: Overthinking certainly is an obstacle to simple.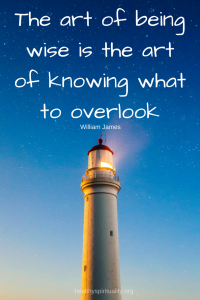 National Simplicity Day
One other reason this practice rose to my heart and mind is next Wednesday, July 12 is National Simplicity Day. I never heard of that special day before but does give us an opportunity to practice and ponder this theme.
July 12 was designated for a focus on living simply because it is the birthday of author, naturalist, and philosopher Henry David Thoreau, who was born on July 12, 1817. In his well-known book, Walden, he writes and reflects on simple living in natural surroundings.
"In proportion as he simplifies his life, the laws of the universe will appear less complex, and solitude will not be solitude, nor poverty poverty, nor weakness weakness."
Henry David Thoreau
July 12 is a day to embrace a simple lifestyle and outlook in life. It also gives us a time to practice the art of doing one thing to make the world a better place.
The Spiritual Practice of Simplicity
I searched my book shelves and found I already had some books about simplicity – I think this practice may have been haunting me for quite awhile. HA!
I also realized simplicity is mentioned in books about spiritual disciplines, but often is combined, somewhat hidden among the more acceptable, desirable and trendy practices. I highlight my books as I read them and write my insights in the margins of books, but discovered when simplicity is explored deeply, my pen is silent.
But let's dive deeper into this practice and explore its wisdom:
When I consider the word simplicity I breath in the sense of space and openness in life. I honor both time, relationships, nature and God. Simplicity offers feeling present and savoring the blessings we have.
Writer Adele Ahlberg Calhoun states that simplicity cultivates the great art of letting go. This practice aims at loosening inordinate attachment to owning and having. It brings freedom and with it generosity. She sums up its goal as: "to uncomplicate and untangle my life so I can focus on what really matters."
Richard Foster's book, The Celebration of Discipline, offers a full chapter on simplicity (yes one I didn't underline). And what did I else did I discover dusty on my book shelf? Foster wrote an entire book of this topic, Freedom of Simplicity. Get the highlighters out; time to digest this book.
Simplicity, contrary to the suggestion of its name, is not a particularly simple or easy way.
Life is very complex and the walk of simplicity is complicated and demanding,
but the rewards are a hundredfold.
Simplicity is not about poverty, or a renunciation of possessions, or a set of dos or don'ts.
Rather simplicity is a spiritual discipline that reorients one's life by deliberately organizing it for a purpose. It is spiritual because simplicity deals intimately with the beliefs and views that lend shape and order to our lives.
Simplicity is a discipline because we have to work at it and practice it in order to apply it in our lives. Adhering our life to a focused center reduces the fracturedness of our lives. Our priorities are aligned to the focus of our lives, and the way we live out our simplicity in terms of our time, energy, and money becomes a reflection of our inner beliefs. Each of our paths will be unique to our situations.
This phrase in particular, jumped out to me:  "simplicity is a spiritual discipline that reorients one's life by deliberately organizing it for a purpose."  I also pause at his expression "focused center reduces the fracturedness of our lives."
Great food for thought and prayer.
In Celebration of Discipline, Foster stresses that a simple life is characterized by three inner attitudes. First is the realization that all we have is a gift from God and not from our work. We rely on God for everything including air, water, and sun.
Second, God will protect what we possess and we can trust him to do so.
And the third inner attitude that grounds simplicity is to share our gifts with others. Living simple gives us the power, not to cling to our possessions, but to offer them to the community.
Foster writes the central point is to seek God first, then everything else will fall into proper order. A single undivided focus on God.
Simplicity begins with God. Centered on God. And is a gift from God.  Time to unwrapped this gift in my life. How about you?
If you haven't signed up to get Healthy Spirituality in your email (I only post twice a week) this is a great time to do this, so you don't miss more about simplicity next week.
And you may want to check out my latest book, Fuel your Faith, is now available on Amazon, both as an e-book and a print book. Happy Dance!
Let's discuss simplicity. Is this a strong practice for you or do you also struggle in this discipline? What helps you? What stands in your way?  I would love to hear from you.