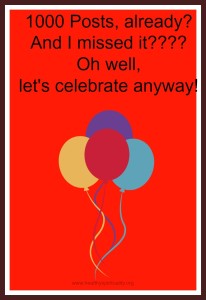 Ever miss an important day?
     Skipped over a landmark?
           Forget to notice a key milestone?
Well I just did. On July 15 I posted my 1000th message on this blog. And I didn't realize it until yesterday. OOPS!
I am not sure if I really believe I have written 1000 posts. It doesn't seem possible. Some posts I have liked and others, not so. Many that I didn't think were very good received wonderful comments. Reading the comments many of you take the time to write or email to me builds connections and community and mean a lot to me. I do appreciate all of you, the silent ones and the more verbal ones. Love you all!
Why do I keep writing?
Writing a blog helps me think. I clarify my different experiences and where I am seeing God in my life. I gain a new perspective often when finding just the right words to put on each page.

I have been so blessed by all of you – friends I have met in person and friends I only know over cyberspace. When you share that you have same experiences and emotions, I know I am not alone on this human adventure. You give me encouragement, share resources and insights and often love and compassion. Thank you!

Blogging has helped me become a better writer. If you write you know the importance of discovering your writers voice. I have also learned the habit of regular writing whether you are inspired or not.

Blogging is a platform for sharing – ideas, struggles, books, quotes, prayers and even my vulnerabilities, flaws and oops in life. When doing so, again I find I am not alone.

I love the creativity not just with words but with photos that I can share here too.

Like Eric Liddell in Chariots of Fire who said, "When I run, I feel his pleasure." When I write, I connect with God and we dance with delight.
What's next? Someday I would like to try vlogging – a video version of a post. Maybe incorporate more humor. Definitely continue to grow as a writer. Convince the world to buy a book I write. Be more creative and colorful with the images on this blog. Grow my email list. (If you haven't signed up to get this blog by email, please do and help spread the word to others. Thanks!!) Help other writers promote their books. Share good ideas and resources and conversations. Keep praying that my words glorify God and tell his good news.
So thanks, dear friends for sticking with me and allowing me to enjoy this moment and milestones.