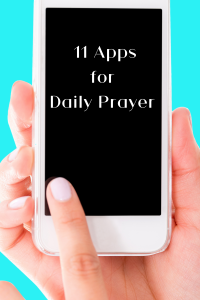 How do you start your day? Me? Coffee, walking, and prayer. All with the help of technology.
My coffee is ready when I get up in the morning since I use the timer feature on the coffee maker. What a great way to wake up with the delightful smell of coffee in the air.
I am a house walker, walking throughout my house at a fast pace, up and down the stairs, listening to podcasts and working out with the goal of 50 minutes and 6000 steps to start the day. I love my Fitbit for tracking and try to close all three fitness rings on my Apple Watch by the end of the day.
I also practice morning prayer and use several apps on my phone to help me slow down, quiet my spirit and thoughts, and hear God in new ways.  Technology can be a distractions sometimes but also a help in deepening prayer. Below are some great suggestions to try. I think all use either Apple or android and most links go directly to the app page. You will have to go to your app store to download.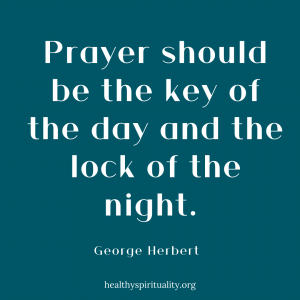 11 Apps for Daily Prayer
Centering Prayer – This is my number one, go-to prayer app. I love the variety of sounds to set up to enter into prayer and the adjustable timer.  A great selection of opening and closing prayers to use too.
Prayer As You Go – Another favorite. Music and daily Bible reading spoken by wonderful British accents. Always inspirational.
Soul Space – my newest find. Calming music that "anchor your thoughts to the love of God." Isn't that a great tag line? 
The Bible App – There are lots of different Bible apps but I like this version with its highlight passages, chose different Bible versions, and even make graphics of verses.
Abide – features daily meditations on topics including overcoming anxiety, finding happiness, forgiveness.
Echo – I have used this one for a long time. It sends email reminders (can send phone reminders too) to me each day to pray. I have it set up with specific names of family and friends and is a simple way to remember loved ones (or anyone/anything) throughout the day in prayers.  
Prayers and Blessings Daily – This app delivers inspiring and biblical prayers and blessings to you every day, to give a new source of inspiration in how to pray. You can choose between different versions of the text, and even have it read-aloud to you! The app also allows you to share the scripture with friends via email, text message and popular social media sites.
Prayer Mate –This app helps you organize your prayer list. You can select people or topics from a category.
My Daily Prayer and Devotion – My daily prayer is a collection of powerful prayers filled with positive messages waiting to be sent to you daily.
The Pray! app lets you set reminders to notify you of prayer requests. This is a go-to app to set reminders to pray for someone during their surgery, interview, or at any specific time of day. A small banner buzzes at the top of your screen reminding you.
Lectio 365 is a collection of simple, scripture-based meditations written by the leaders of the 24-7 prayer movement and built around the simple "PRAY" concept (Pause, Rejoice, Ask, Yield). Like Alpha's Bible in a Year app, there are new daily meditations for each week, usually grouped around a theme such as justice or hospitality. 
Technology can be challenging, time wasting, and distraction. Yet when used wisely, technology can also feed our spirit and draw us closer to God.
Have you used any of these apps? What other technology can you add to the list?