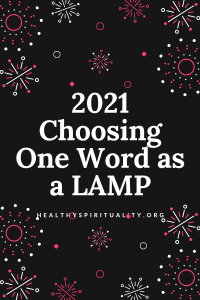 Do you choose one word or short phrase to frame the coming year ahead?
I have chosen one word for a number of years. In fact, last year I shared a decade of this practice. Most years the selected word amazes me in how it shapes my point of view and directs my steps. The word represents where my heart and soul are right now and more importantly what I am desiring to be over the next 12 months and how God is shaping and transforming me.
There are many resources to help you chose. Click on these links to read a few articles.
I know other bloggers follow this practice and I am especially excited to participate in a regular reflection of my word along with kindred spirit Lisa Burgess. Clicking here will lead you to sign up for her monthly email and questions for reflection to share and keep your word front and center throughout the year. Thank you, Lisa,!
Lisa wrote this blog post last week titled "3 Steps to Choose One Word for 2021" and used the delightful acronym of LAP to help you decide or how I like to say it: slow you down to listen to what word in calling you.
L – Listen
A – Abbreviate
P – Plan
Isn't that a great guide?
I am adding one letter to her practice, "M" and making the word LAMP. A lamp to light your way in 2021.
"M" stands for marinate. I find it takes time for me to discover the right word. I make a list of what words resonate, shimmer, call to me. I pay attention to all the places words exist: books, blogs, Bible, conversations, sermons, and even commercials. In late 2020 some of the ideas on my possibility list included reboot, gaze, embrace, enough and becoming. Usually, I find one word slowly emerges, echoing in my heart and reverberating in my spirit.
Then I let that word MARINATE. I bring that word to God, open palms in stillness and silence. I sit with that word – does it feel right? Energize me? Give me life?
The next step is to share it with my journal, my spiritual direction group and now here.
My 2021 Word is:
GO.
Very simple. To be honest I was surprised with this word, but now am finding so much meaning carrying this in my heart. Go gives me life.
Often, I hesitate and don't take risks. In 2021, I will go.
Many times, my introverted self doesn't reach out, ask for help, share my deepest needs. In 2021 I will go.
God certainly stretched us all in that chaos of 2020, but his faithfulness and presence stayed with us. In 2021 I go with God.
Go also symbolizes a new spiritual practice for me which I will write more about later this month: GO stands for Grace Observed. What am I seeing grace each day?
Inspirational phrases contain the word Go. Go with boldness. Letting Go. Get up and go. Go for it. Go the distance.
Bible verses inspire this word too:
"Go therefore and make disciples of all nations."
"Hagar, slave of Sarai, where have you come from, and where are you going?" (I love these two questions to use in my prayers and journaling)
"Be strong and courageous. Do not be afraid; do not be discouraged, for the Lord your God will be with you wherever you go."
"Where you go I will go, and where you stay I will stay."
"Where can I go from your Spirit? Where can I flee from your presence?"
"And if I go and prepare a place for you, I will come back and take you to be with me that you also may be where I am."
"Go" is my 2021 word and will serve as a lamp as I step into a new year full of possibilities, life, challenges, and growth.
What word is calling you?