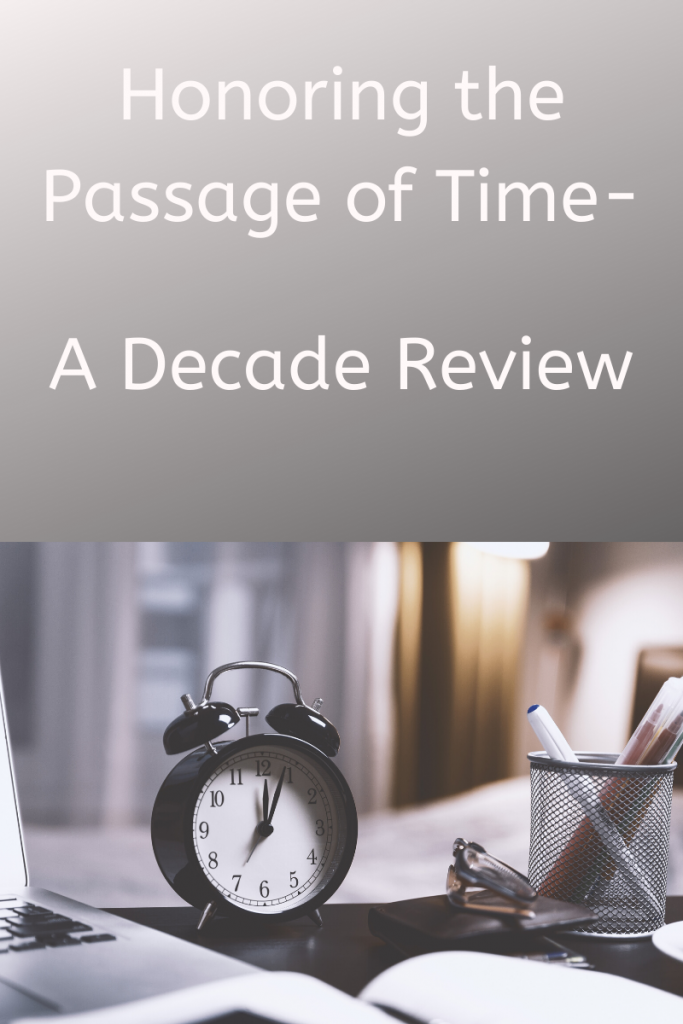 Honoring the passage of time?  How do we heed time on its swift journey? One moment it is January 7 and * blink * we are celebrating Christmas 2020.  Time flies.
Many psychologists will confirm that time really does zip by faster each year, Of course, time doesn't change its speed – each minute, second, moment is the same length as another. But mentally and maybe even spiritually, our perception tells us time zooms ahead at warp speeds.
Reflection is a wonderful and effective spiritual practice for gently hitting the brakes and slowing life down a bit. Each December I reread my journal entries from the past year and write up highlights, key lessons, words and verses that resonated with my spirit and how I experienced God those 12 months.
These yearly summaries capture time and help me honor the passage of time and the journey I am on.
"People overestimate what can be done in one year, and underestimate what can be done in ten."

J.C.R. Licklider
Besides a yearly review last month, I contained time in a new way – a 10-year review. Perfect timing since 2020 is the start of a new decade according to most experts.
So I pulled out the step ladder to reach my top shelf where my journals gather dust. I ended up collecting 4 journals plus my current one starting from December 2009 as a base extending into December 2019. I knew these year-end summary pages would simplify my exploration into the past decade but to be honest, I was a little unsure what I might discover.
I don't regret traveling back into time, revisiting my old self and surveying my spiritual journey.
How to Honor Time through a Decade Review
My journals presented a natural way to harness and honor the passage of time. You could use calendars, letters, photos if you don't have journals or don't write often. Asking a good friend or family member about specific dates could also give you a window into the past.
Note significant events. Trips. Births. Deaths. Injuries. Job changes. Relationships evolutions – both ones to celebrate and others to grieve and maybe forgive.
Here are a few I noted in my own reflective trek from 2009-2019.
List events that occurred over the past 10 years.
Key events – Ammie! (The nickname my grandkids call me – the first grandchild was born in 2009, the fifth in 2019 – bookends!! And both the only girls!) I completed my work in the church to serve as a Deacon and called and commissioned in 2013 in my parish. I grew as a writer (blog, agent, books, traditional and self-publish). My adult kids had some struggles jobwise but have now blossomed in their careers. So proud of them. My Sister-in-love remarried after being a widow and they both moved back to Ohio, living close to us. We experienced wild and wonderful travel. The Lord gave me images – trees, feather, birds/bird nests, dance. Each year I lamented my battle with weight, the ups and downs, the regaining and trying again, but celebrated in the fall of 2019 of finally reaching my weight watcher goal.
What is revealed about your true self? Reviewing each year, patterns and lessons emerged about who you are in your heart and soul. Note your deepest longings, repeated prayers, and continual yearnings.
Each year unfolded a new insight. Unfold theme will be a theme for this coming decade too. Most years reflected a deep longing for oneness with God for me. Here is how I summarized my identity that permeated every year.
My identity – a Beloved Child of God.
My "Cannot not" statements:
I cannot not write (2009)
I cannot not be a contemplative (2018)
Do you have a word of the year? I was surprised I now have done this practice for 10 times.

Words of the Year
2010 Look
2011 Devotion, nurture
2012 Choice. Discern
2013 Stretch
2014 Enfold
2015 Stillness
2016 Joy
2017 Attentiveness
2018 Enough
2019 Light
2020 Sacred Space (more about this idea in few weeks)
What practices fed your spirit? What practices do you see continually longing for more of but never taking the time to do?
Essential Spiritual Disciplines – Practiced and Neglected
Essential Practices over the decade – prayer, dialog prayer, contemplative prayer, retreats, service, rule of life, journaling, gratitude, tender presence, listening, discernment, Gazing/being with the Trinity. Where am I and where am I going? What draws me closer to God? What draws me away? Power of Questions.
Neglected and still longed for practices – Sabbath, justice, longing for a soul companion/spiritual guide.
Every year also offered ideas, guidance, and inspiration for the next year and decade ahead.
I took the time to imagine 2030. Stop a moment and do the same. How old will you be? Your family ages (I was shocked to realize my oldest grandchild would be 21!!) My own true age in ten years flabbergasted me and I still don't believe it.
If I were to die in 10 years or be dying, what would I regret not doing? This powerful question brought several ideas quickly to my heart that I want to be more intentional about in 2020 – not to wait any longer. To show up for God and my true calling. No regrets.
How do you honor the passage of time? The best way is to listen to its lessons through a reflective, prayer-filled review. A journey through the past decade lights our path ahead.
What did this past decade teach you?
P.S. If this topic is of interest to you, you may also like to read this post about honoring our stories.