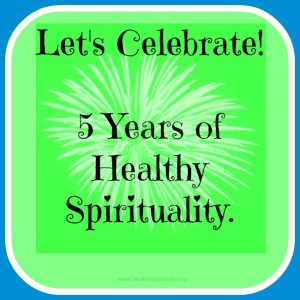 Five years ago I began blogging here about healthy spirituality. Let's celebrate!
Take 5! High 5! Today is my 930th post!
To be honest I feel so blessed to have this space to explore my own walk with God and to share it with you. Many of you were friends before but many of you are now friends through this blog. Thank you.
Five years ago my first blog post actually went live in February, but since we were traveling during that time I waited until today to tell you about how we are celebrating.
Let's celebrate in FIVE ways:
I have a freebie for everyone – YIPPEE!

If you look up at the top of this blog and click on the free resources tap, there is a new pdf titled "50 breath prayers." Prayer – spending time with God – is essential in our walk with Him and I hope you will find just the right breath prayer on this list to share with Him.
One aspect of Healthy Spirituality has been the

abundance of quotes

I have shared: here are five of my favorites (and wow, it was really hard to narrow this list to five!!):
"When a train goes through a tunnel and it gets dark, you don't throw away your ticket and jump off. You sit still and trust the engineer."
Corrie ten Boom 
"I have held many things in my hands and have lost them all, but whatever I have placed in God's hands, that I still possess."
Martin Luther 
"Nothing is more practical than finding God, that is, than falling in love in a quite absolute, final way. What you are in love with, what seizes your imagination, will affect everything. It will decide what will get you out of bed in the morning, what you will do with your evenings, how you will spend your weekends, what you read, who you know, what breaks your heart, and what amazes you with joy and gratitude.
Fall in love, stay in love, and it will decide everything."
Pedro Arrupe 
"Look at God, looking at you… and smiling."
Anthony de Mello 
"Thus am I, a feather of the breath of God."
Hildegard of Bingen.
3.  Another aspect of Healthy Spirituality is the "pinable" sayings and photos on each blog. Here are five I really liked:
4. Here are the five most popular posts over the last five years:
15 Inspirational Quotes about Advent
Exploring Different Types of Prayer 
5. And most excitingly you, dear reader, can enter over the next five days to win a $50 Amazon gift card.  See the sign up gadget below. There are several ways to enter. Please spread the word about the giveaway and as always I appreciate you encouraging others to sign up to get Healthy Spirituality by email.
Thank you for celebrating with me! Thank you to God for the gift of words and for His gift of the Word!