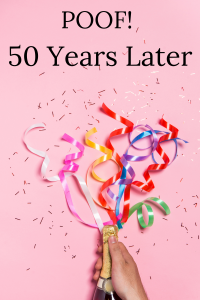 50 years ago – March 1971.
I bet some of you reading this may have been alive then. Do you remember March 1971?
I do. A significant event happened, but at that moment I never realized that this was a turning point in my life.
Even you, my younger friends, have experienced a meeting, a word, an interaction that at the time seemed small. Maybe fun but not life changing. Another notation on the calendar, the to-do list. A minor memo that slowly and surprisingly took root and grew beyond any expectations.
March 1971 – I remember riding back to my college dorm with my then current boyfriend. I recall saying to myself. "He is such a nice guy but just not the one. There is no spark here. I really should try spending time with someone new."
A girl-ask-guy party was coming up on campus. I looked around at several meetings scanning the crowd for a possibility. I remember looking at tall blonde Paul, wondering about him when I noticed a shorter brown-bearded guy next to him. Chip – Bill's nickname. Seeing him made me smile. Friendly. Not pretentious. I didn't have to put on a show or be something I am not around him.
I asked Bill to the party. A quick decision. I didn't feel the earth move or lightening erupting from heaven. I never heard a voice shout, "Behold this moment. This is the one!"
But God knew.
We went out and had a good time. That missing spark? My heart warmed and rekindled around Bill. The slow glow of love bloomed.
50 years ago, I took a risk. I hungered to be with someone I didn't have to pretend to be something I wasn't. I wanted a partner. A friend. A companion. I found someone who loved me as I am.
50 years. POOF!
Where have the past 50 years gone?  Time flies so quickly.  I feel a need to pause, grab the moment and cherish this gift.
God sent me Bill. And 50 years later we are still together. We didn't get married until July 1972 so we have a big anniversary looming next year but this moment in March 1971 needs to be honored and recognized too.
An insignificant momentary decision that led to a wonderful life together.
Thank you, Lord, for giving me Bill.
Do you have a moment in your life that at the time seemed minor but in hindsight you realized its importance?