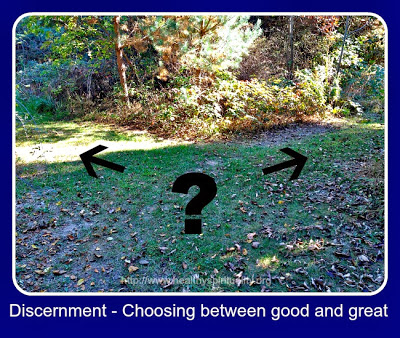 "I have to learn to say no." my friend sighed.
"Life is full of so many great choices, it is hard to chose at times," I said.
This conversation last Tuesday made me wonder again how to choose between good and great.  Some times both options are great. Which one to choose?  ahhh, the conflict between good vs. great.
Then I read this quote today from Charles Spurgeon:
"Learn to say no. It will be of more use to you than to be able to read Latin."
Discernment can be difficult. I know I would love to have God simply tell me what to do sometimes (to be honest many times I want to control that decision – but when I am not sure that's the time I want him to tell me clearly and directly.)  DO THIS JEANIE. GO THIS WAY!  That is what I want to see headlined in the clouds!
I want clear direction between good vs great.
I get so excited about learning, accomplishing, and growing as a person I jump into something because it is good instead of really stepping back and thinking it through if it is the best. Often it is deciding between two blessings.
Here are some questions I ask myself when discerning between good vs. great:
1. What is God saying to me about this decision? I listen in prayer, to what God says in the Bible and seek advice from my community.
2. Does it fit my gifts and mission in life?I recently resigned from a synod committee basically because it required gifts I didn't have and didn't use the ones I knew were from God. I was out of place. I didn't feel excited or at peace there  – no fruit of the spirit appeared.
3. Does it match the season I am in? I am often asked to serve on various boards since for many years I headed many community and state committees.  I have experience in this area and am a good board member.  BUT that was my previous calling and not where God is calling me now.
4.  Am I minding my boundaries (if I have set boundaries?) I have learned or often needed reminded that the reality is just because something is good is not a sufficient reason for doing it. The number of good things we can do far exceeds the time available to accomplish them. Some things are better than good, and these are the things that should command priority attention in our lives.
5. Does it follow my rule: add one, drop one (or even drop two) If I decide to accept this new offer, what will I let go of so I have the time and energy to fully engage? How does that make me feel? Is the trade off worth it?
6. Have I thought through the "What if" scenario? Using my imagination I try to pretend I've gone one way. How does that make me feel? What does it look like? At the end of life, would it even matter? Then I imagine choosing the other option and analyze that point of view.
7. Have I paused and listened to my heart and my gut? Deep down what do I really want to do?
Once I was torn between accepting a position or not. I prayed and prayed and couldn't really determine what God wanted me to do. One Sunday afternoon after struggling with indecision, I heard God simply ask me, "What do you want to do? What does your gut tell you?" I knew I wanted to say no to the offer, told God that and immediately felt at peace. I felt God would have blessed either way I chose this particular time, but what pleased him the most was my desire to be obedient to his will. The process and the struggle to decide generated a wonderful lesson for me and drew me closer to God.
"When you cannot make up your mind between two evenly balanced courses of action, 
choose the bolder."
What helps you make decisions?  How do you decide when faced with good vs. great?