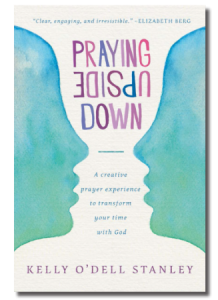 I threw the windows open and unlocked the front door last week and invited the crisp spring air inside my house and my heart. Deep breathe, Jeanie. Feel the life in the atmosphere. Time to refresh and shake out that old dust.
Don't you love gaining a new perspective to old routines? Rearranging the furniture. Cleaning out the bedlam buried in a kitchen drawer. Learning a new way to thinking or doing something
This is how I feel about a book I am reading by Kelly O'Dell Stanley called Praying Upside Down – a Creative Prayer Experience to Transform Your Time with God. Kelly tackles prayer from an artist point of view, giving me new insight and ways to pray.
I love how she weaves in her own story, humbly sharing her ups and downs and inviting us no matter what our faith background is or our history with prayer to join her. The book is one of the most creative books I have read on prayer and I have read a ton of books on this topic.
Quotes to share:
"Praying upside down is a way to move your prayers away from the expected so that you can learn something new, hear an answer you didn't anticipate or see God in a unique way."

"Expect that prayer will look different from year to year – or day to day. Prayer is fluid and your relationship with God will change over time and through different situations."
"One tool isn't enough for a lifetime of prayer; just one tool would not satisfy an artist for life. Combine them, mix them – maybe discover something new."
Many of Kelly's chapters are described in artist's terms: white and negative space, perspective, the grid method, sketching and drawing, keeping a sketchbook, and proportion. Then using these as methods as a framework, she gives practical ideas of applying them to our prayer life.
Unique. Creative. Refreshing.
And shelf-worthy – Like I have written here before I own and love too many books, so a book has to be a keeper if I am to make room on my crammed bookshelves for a new addition. Praying Upside Down earns a spot.
There is a free discussion guide and other resources on the book's website. I hope you enjoy the book!
What book is on your list to read next?