"I am praying to you because I know you will answer, O God. Bend down and listen as I pray." Psalm 17:6 (NLT)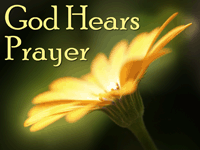 Listen as I pray.
Listen.
I shake my head in disbelief that the God of the Universe, the One who created all things, controls all circumstances and is Above All – listens to little ol' me.
Important people, Lord, much more significant, speak to you. Why the Pope, the Bishops, and many walking a purer spiritual life need You to hear them.
Yet You listen to me.
Aren't my prayers drowned out in the ocean of chatter from the world?
Yet You listen to me.
When I whine and complain, You listen with love.
When I praise and burst with thankfulness, You listen with joy.
When I shout in anger and frustration, You listen with patience.
When I can't find the words, You listen to my heart.
Thank for listening Lord. May I be a better listener to You.