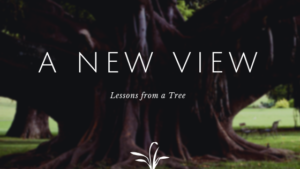 I heard the grinding before I knew what was happening. My peaceful morning in my office erupted with noise and flying sawdust.
Men next door were cutting down my neighbor's huge tree that long loomed between our two homes.
The tree companioned me through all the seasons. As I sat in my glider for my morning time with God, I would watch that tree as I prayed, journaled, sought God.
The tree that shaded my backyard and yes, rained down leaves in my garden. The tree that spun gold in fall and gave birth to new life each spring. The tree that housed black squirrels who dance in its limbs.
I loved watching its branches wave back to me as we shared years and prayers together.
A few springs ago we noticed its twigs were slow to grow new leaves. After a wind storm, big limbs dented the neighbor's car. The tree's fullness waned. Like a receding hairline, more sky peeked through the branches. Even the trunk looked grayer.
The tree aged and died this year.
Is it silly to grieve a tree?
There is a time for everything,
    and a season for every activity under the heavens:
a time to be born and a time to die,
    a time to plant and a time to uproot,
Ecclesiastes 3:1-2
I do love trees. I wrote about the wonder of trees here and again in this post in 2011.
A New View
This morning I sat down in my glider for my morning time with God and looked out the window. Instead of sadness though, I saw a pink sky greeting me. A clearer vision for a new day. A new view to know and see God's world.

This afternoon blue sky smiled back at me like it was telling me to enjoy this new space. Space for God to teach me new things.
Yes, life is hard at times. Letting go feels wrenching. Our tightly closed fists cling to what we know instead of leaping in faith to new adventures with God. New blessings wait for us when our hands are open and empty, ready to receive.
Today I honor what has passed and reach towards the new.
"Tree at my window, window tree,
My sash is lowered when night comes on;
But let there never be curtain drawn
Between you and me."
–  Robert Frost