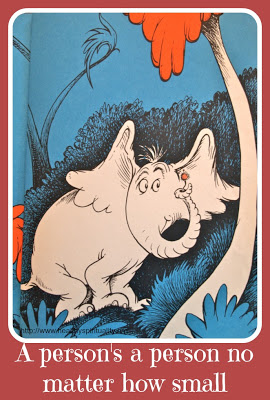 This fun
Dr. Seuss
story teaches children and reminds adults the important lesson of loving your neighbor.  I used this book as part of the children's sermon last Sunday when the gospel lessons told the well known parable about the Good Samaritan that starts with the question,
"Who is my neighbor?"
Does Horton talk about neighbors?  Not exactly. The weather is hot so Horton, the elephant, jumps into the pool to splash the heat away. He is having lots of fun when he hears a small noise.
Looking around he sees nothing.  But once again he hears a faint cry for help.
"I'll help you," said Horton, 'but who are you? Where?' He looked and he looked. He could see nothing there but a small speck of dust blowing part through the air."


Horton ends up discovering a whole group of people barely visible to the eye who need help. And Horton does help. In fact he goes the extra mile for these people he didn't even know and almost missed seeing.
This is Horton's philosophy:
"A person's a person, no matter how small."
Horton's mantra has lingered in my heart this week. I wonder how many times I am too busy splashing in the pool, focused on my own needs to hear the cries of someone else.
I wonder how often I don't see the person on the margins of life or someone not important enough to my ego to draw my attention.
I would like to think I have a good heart, but I know it is often filled with worries and doubts that squeeze out the energy to reach out to another.
"A person's a person, no matter how small."
Jesus' parable show us the Levite and the priest who conveniently walk the other side of the road to avoid the one lying in the ditch needing help.
How often have I played those roles staying in my safe corner of the world with my head buried in books about service instead of hands soothing the wounded.
Yes Horton is right. Everyone, no matter the size, has meaning. Just because I don't see suffering doesn't excuse me from lending a hand or offer kindness.
"A person's a person, no matter how small."
Horton's wisdom and Jesus' parable – good lesson to ponder!
What lesson have you learned lately?