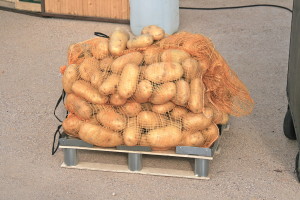 Our pastor last Sunday shared the following story:
A young man wanted to gain body strength and get into shape by working on his uncle's farm one summer. His wise uncle suggested that he do vertical arm lifts while holding  1, then 5, then 10, then 25, and 50 pound sacks of potatoes.
The young man exercised faithfully. Each day he would go to the barn and practice the repetitions with the potato sacks. Yes he started with the one-pound sacks and slowly advancing until the end of summer he was lifting 50 pound sacks. He finally accomplished his goal with 100-pound sacks in both arms.
He rushed to his uncle exclaiming proudly his achievement.
"And guess what, Uncle. Next week I plan to start putting potatoes into the sacks."
The congregation chuckled at this silly tale.
But our pastor went on to clarify that many of us treat our daily devotional life in the same way.
We skim our Bible reading.
We rush through obligatory prayers.
We ramble with nonsense instead of listening in silence.
We focus on the doing, not the being with God.
Our devotion and prayer life resembles empty potato sacks, one not filled with nourishment for our souls.
Pastor's simple story made me stop and think.
How am I getting into better spiritual shape?
What about you?