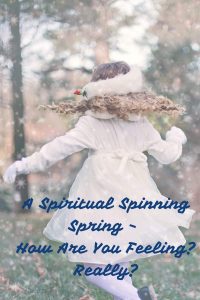 Whoa! Remember a few weeks ago when we were deciding what to give up for Lent, planning spring and summer vacations, and knew each day what routine and rules governed our daily living?
We didn't wonder how much toilet paper we had in our cupboards.
Whether we would have worship Sunday morning.
Which restaurants to go to Friday night.
When we would see and hug our grandkids.
Spring certainly took an unexpected spin, didn't it?
How are you feeling?  Really. How are you?
I am a three on the Enneagram and find it so hard to name the emotions I am experiencing, but I am trying.
Shocked
Sad
Overwhelmed
Distracted
Scattered
Shattered
Spinning
Disconnected
Inconvenienced yet blessed
Wavering between being scared, allowing my eyes to focus on the world vs. trusting and keeping the eyes of my heart only on our Almighty God.
Experiencing tears of the grief of what is being lost, then tears of joy from human humor and selfless kindness.
Most of you don't know my previous work was in public health. As the local health commissioner, we had preparedness drills about this exact scenario that has gripped the world. I am watching the current officials (In Ohio our governor and Ohio Department of Health Director are doing a great job) take each step as they should, anticipating next moves and needs.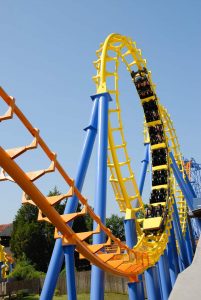 Perhaps the best image that is occurring internally inside my heart is a roller coaster. I get the feel how the ride is going, then boom my whole world is jerked in a different direction. Yanked from crazy chaos then rising to faith-filled hope. The turbulence is terrifying, yet I know God securely holds me safe.  Did I tell you I am NOT a fan of roller coasters?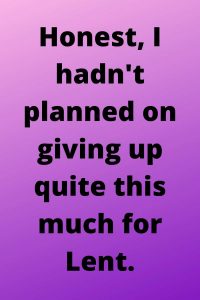 We are all adjusting to a new reality. I don't like the word – new normal – this is not normal and never will be and eventually we will return to community and person to person connection.
For now, our personal plans are postponed. We live with inconveniences. We recognized the consequences of our actions and behaviors with clarity. We think of the greater good and actually see wonderful acts of kindness among most of us.
Lent is a time of letting go. We shed our obstacles to God; what distracts us from being with him.
There is a great scene in CS Lewis' The Voyage of the Dawn Treader.  One character, Eustace, is no longer how God created him to be – a little boy – but has become a dragon. Eustace explains what happened to him to his cousin:
"…I looked up and saw the very last thing I expected: a huge lion coming slowly toward me. And one queer thing was that there was no moon last night, but there was moonlight where the lion was. So it came nearer and nearer. I was terribly afraid of it. You may think that, being a dragon, I could have knocked any lion out easily enough. But it wasn't that kind of fear. I wasn't afraid of it eating me, I was just afraid of it—if you can understand.
Well, it came close up to me and looked straight into my eyes. And I shut my eyes tight. But that wasn't any good because it told me to follow it." "You mean it spoke?" "I don't know. Now that you mention it, I don't think it did. But it told me all the same. And I knew I'd have to do what it told me, so I got up and followed it.
And it led me a long way into the mountains… there was a garden—trees and fruit and everything. In the middle of it, there was a well… The water was as clear as anything and I thought if I could get in there and bathe it would ease the pain in my leg. But the lion told me I must undress first… So I started scratching myself and my scales began coming off all over the place… But just as I was going to put my feet into the water I looked down and saw that they were all hard and rough and wrinkled and scaly just as they had been before…
Then the lion said—but I don't know if it spoke—'You will have to let me undress you.' I was afraid of his claws, I can tell you, but I was pretty nearly desperate now. So I just lay flat down on my back to let him do it. The very first tear he made was so deep that I thought it had gone right into my heart. And when he began pulling the skin off, it hurt worse than anything I've ever felt. The only thing that made me able to bear it was just the pleasure of feeling the stuff peel off. You know—if you've ever picked the scab off a sore place. It hurts like billy-oh but it is such fun to see it coming away." "I know exactly what you mean," said Edmund. "Well, he peeled the beastly stuff right off—just as I thought I'd done it myself the other three times, only they hadn't hurt—and there it was lying on the grass: only ever so much thicker, and darker, and more knobbly-looking than the others had been. And there was I as smooth and soft as a peeled switch and smaller than I had been. Then he caught hold of me—I didn't like that much for I was very tender underneath now that I'd no skin on—and threw me into the water. It smarted like anything but only for a moment. After that, it became perfectly delicious and as soon as I started swimming and splashing I found that all the pain had gone from my arm.
And then I saw why. I'd turned into a boy again."
Lent can be a time of transformation as we become as God intended us to be. Letting go even of the precious attachments we cling to – like dragon skin – helps us find our true calling as children of God.
Right now this event has evolved as a collective experience that will shape and transform us. We will emerge changed and I do believe for the better.
I am hopeful.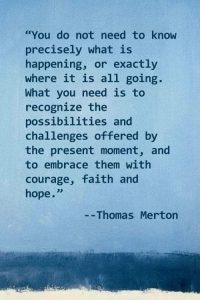 This verse resonated with my soul this week and perhaps will bless you too.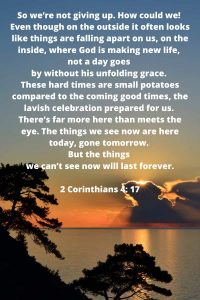 Rereading this post I know I am rambling and scattered – a reflection of life right now. I have learned a writer arranges words to help both herself and her readers connect, express, and grow – I hope explaining my internal struggles, feelings, and reflections give you strength, courage, and reassurance God is with us and loves us.
How are you feeling?  Really?