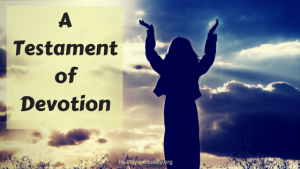 Devotion. How can we cultivate a deeper devotion to God?
This is one question I ask frequently in my prayers and my journal. A question I hear in my spiritual direction practice. A question that arises from the hearts of the readers of this blog.
I was pondering this the other day when I saw a book, an old friend, on my shelf that I hadn't read for a while: A Testament of Devotion by Thomas Kelly. What a great find to reread and savor once again.
A Testament of Devotion practically jumped into my hands. I wanted to find a classic to feature as this month's Healthy Spirituality Book Chat and instead of my searching for one, it found me!
"Deep within us all there is an amazing inner sanctuary of the soul, a holy place, a Divine Center, a speaking Voice, to which we may continuously return."
A Testament of Devotion
The theme of this book is the discovery and exploration of the presence of God within us.
Basically, A Testament of Devotion is five essays, titled:
The Light Within
Holy Obedience
The Blessed Community
The Eternal Now and Social Concerns
The Simplification of Life
In the first essay, Kelly writes, "The Living Christ within us is the initiator and we are the responders…the basic response of the soul to the Light is internal adoration and joy, thanksgiving and worship, self-surrender and listening…the light from the inner sanctuary of the soul can be a workaday light for the market place, a guide for perplexed feet, a recreator of culture-patterns for the race of men."
God is present. We respond by quiet, persistent practice of turning/returning all of our being towards him. We intentionally align our hearts and minds to a life of simple prayer and inward worship.
"There are plenty to follow our Lord half-way, but no the other half. They will give up possessions, friends, and honors, but it touches them too closely to disown themselves"
Meister Eckhart
This is a hard quote to ponder, isn't it? To be so honest and vulnerable on how much we serve ourselves and not be obedient to God.
This book causes me to pause and ponder – how committed, devoted am I to God?
A Testament of Devotion Author – Thomas Kelly
Who is Thomas Kelly? Kelley lived from 1893-1941 and was a Quaker from Chillicothe Ohio.
He attended and later worked at Haverford College where he was attracted to teaching the science but found himself drawn to philosophy. He discovered the more mystical side to the Christian walk and hungered for a deeper experience of God.
A key mentor for Kelly was Rufus Jones, an American religion leader and professor. Interesting note: Rufus Jones also influenced my great Aunt Anna's writing and served on her dissertation team. Small world, isn't it?
Kelly faced many challenges and failures in his pursuit of education and his relationship with God until he gave up his striving and rested in God's grace with a childlike obedience and trust. A key lesson for us to remember.
As a writer, I was intrigued by this fact from his life:
Kelly received word on January 17, 1941, that Harper and Brothers was willing to meet with him to discuss the publication of a devotional book. He died of a heart attack in Haverford, Pennsylvania later that same day.
Warning: Good news as a writer may be fatal!
A Testament of Devotion Takeaways
This is one book that I picked up and collected thoughts and phrases from to take into my prayers and time with God. I can tell it was written in mid-20th century but the wisdom and gems are still to be found in the writing. Here is what I gathered this trip through its pages:
Bring ourselves – No matter, how we feel, continue to come back to God. Even in our lapses, forgetfulness, and intentional hiding from God, he will receive us every time in our brokenness and probably because of our shattered selves. Return to God and enjoy his presence.
Yield ourselves: Phrases and quotes from the book echoing within me:
Immersion in God is life.
I've been melted down by the love of God.
Self is emptied into God and God in-fills it.
Holy and listening and alert obedience remains, as the core and kernel of a God-intoxicated life.
Sit with this one for a while. I am awed by the words "ravishing joy" and ineffable sweetness"
"It is an overwhelming experience to fall into the hands of the living God, to be invaded to the depths of one's being by his presence, to be, without warning wholly uprooted from all earthborn securities and assurances and to be blown by a tempest of unbelievable power which leaves one old proud self utterly, utterly defenseless…then is the soul swept into a loving center of ineffable sweetness, where calm and unspeakable peace and ravishing joy steal over one."
3. Be kind to ourselves: We can begin where we are right now. In this present moment, no matter our condition, our sin, our confusion. We can turn to God. What a beautiful invitation: "If you slip and stumble and forget God from an hour, and assert your old proud self and rely upon your own clever wisdom, don't spend too much time in anguished regrets and self-accusation, but begin again, just where you are."
4. Simplify ourselves: Forget our uncrowded schedule and adult expectations.  Live simply in childlike trust, listening, and walking with God. We complicated our journeys with details, detours, and distractions. "Life is meant to be lived from a Center, a divine Center. Each one of us can live such a life of amazing power and peace and serenity, of integration and confidence and simplified multiplicity on one condition– that is, if we really want to."
In his last essay, Kelly asks these questions:
Do you really want to live your lives, every moment of your lives in his presence?
Do you long for him, crave him?
Do you love his presence?
Does every drop of blood in your body love him?
Does every breath you draw breathe a prayer, a praise to him?
Do you sing and dance within yourself as you glory in his love?
Have you set yourselves to be his, and only his, walking every moment in holy obedience?
Are our lives unshakeable because we are clear down on bed rock, rooted and grounded in the love of God?
Do you want to live in such an amazing divine presence the life is transformed and transfigured and transmuted into peace and power and glory and miracle?
Wow, questions that stir my hunger for God!
Have you read this book? If so what gem stayed with you? What feeds your hunger for God?