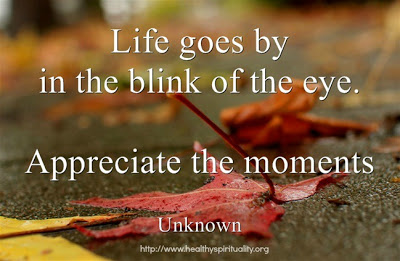 The gift of time.
December blew in with a chilly and crystal clear star- shimmering night this week in Ohio. I gazed out my back window into the darkness. The light from the brilliant half moon and the twinkling of a million heavenly lights captivated my being.
I paused and embraced that one moment.
How are You preparing my heart for Christmas, Lord?
How will I be transformed by Your coming?
Advent is an in-between time.
     A time of reading the old stories.
        A time of anticipating what will come.
           Time of preparing my heart to receive the good news.
Advent – the interval between stuffed grateful Thanksgiving and joyous, noisy, family filled Christmas.
We wait impatiently for family to arrive. We live in expectation of the future.
We ignore the present. Somehow I don't think God wants our Advent time to be this way.
"You may pray for an hour and still not pray. You may meet God for a moment and then be in touch with Him all day." –Fredrik Wisloff
That moment of brilliant stillness the other evening – where time paused – is now gone. Time kept ticking away.
I ponder time this season – in-between times, this time remembering the old and awaiting the new. This interval where I "meet God for a moment."
What does this in-between time mean and what are its lessons?
When we were in England this fall, we toured Cambridge. Amidst the old buildings and ancient traditions, we found a very strange clock.
The Corpus Clock hangs at street level on a corner just outside of Taylor Library. This unusual timepiece was named one of Time's best Inventions of 2008.
Unusual is an understatement.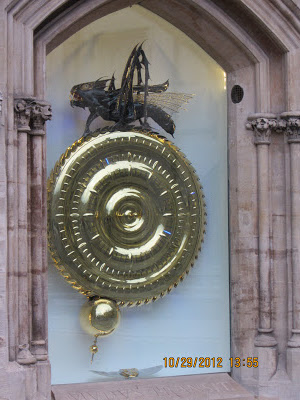 Sitting on top of the mechanism is a strange looking beast called a Chronophage.This insect which looks similar to a grasshopper or locust moves its mouth and appears to "eat time" second by second. A Chronophage literally means "time eater" from the Greek chronos (time) and phago (to eat).

The sculpture occasionally blinks (or winks) and produces an eerie grinding sound that matches its task of devouring our time.
Each minute the creature snaps its jaw shut swallowing another minute of life.
Each hour is marked by the sound of a chain clanking into a small wooden coffin hidden behind the clock.
Its inventor Dr. John C. Taylor wrote, "My thoughts were triggered by the realization that time is both eternal at a universal level yet extremely limited at a personal level, and that the time we have spent cannot be regained – almost as if it has been eaten up by a relentless, menacing creature…"
What a dramatic way to mark the inevitable passage of time.
Take the time to watch this fascinating video about the Corpus Clock and its meaning.   It begins in dim light so you can see the time better, but does lighten as the video progresses (mmm, does Advent, that is an interesting insight):
Advent – a time to ponder time.
   A gift to embrace the present and to behold the present One.
"Once you have seen the Chronophage, all other clocks will seem rather boring – all they do is tell the time." said Dr. Taylor.
I think once Advent invades your heart and transforms your spirit, the past and the future step back allowing you to embrace the present.
the time just before the adventure begins, when everybody is leaning forward to hear what will happen even though they already know what will happen and what will not happen, when they listen hard for meaning, their meaning, and begin to hear, only faintly at first, the beating of unseen wings…"
–Frederick Buechner, The Magnificent Defeat
How does Advent invite you to  ponder time?