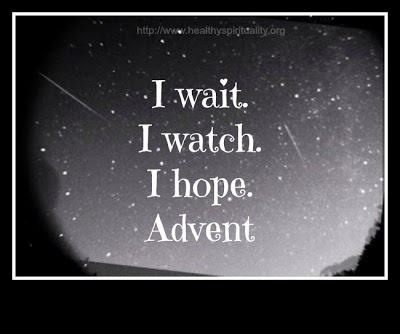 Advent: Wait, Watch, Hope.
Stargazer. Star-crossed. Star-strucked. 
Call me what you want to: I love the shimmering twilights in the nighttime sky.
If the evening news tells us there will be an eclipse – I am there.
If they predict meteors – even better.
I am obsessed when the moon performs wonders and shooting stars dance.
I used to drag our kids out in the middle of night to join in my fun. Well, fun for me; I am not sure for them.
One time I woke them up at 3 AM, dressed them warmly and drove to an airport where telescopes were set up to watch the once in a lifetime view of
Haley's Comet
– once in a lifetime for me, but a possible twice in a lifetime event for my kids. Priceless!
Last Tuesday the
Geminids
's meteor shower presented a marvelous showing in the clear dark skies. The kids are grown now and safely away from their obsessive mother. But being the diligent mother I am, I texted them that heaven planned to show off that night and reminded them to look up.
Even hubby Bill was working last Tuesday and gone all evening. Being by myself didn't stop my giddy anticipation. The chilly Ohio evening still invited me to venture out for the performance, predicted to have 50 or more meteors per hour.
Since I am not a cold weather fan, I decided to watch the stars streaking performance from our hot tub. Not a bad seat I would say!
I settled into the warm water surrounding by gurgling bubbles.
I waited.
I watched.
I hoped.
I stared upward eagerly scanning the sky.
"There's one!" I squealed like a child at a circus.
I waited.
I watched.
I hoped.
"Wow" another one raced from the tip of Orion so quickly I almost missed it.
A smile never left my upward scanning face as the stars skipped and hopped across the sky.
I melted into pure adoration – delighting in God's creation.
My wonderment welled up into worship; praise swelling in my heart.
With each shooting star, my amazement intensified.
I waited.
I watched.
I hoped.
I was not longer alone in a hot tub in cold Ohio. God was present in all His glory!
Wait! Watch! Hope! – All words embedded in this Advent season.
I waited.
I watched.
I hoped.
Active waiting for the next shooting star mirrored my active waiting during Advent.
Advent is a pregnant time -a time of growth and preparation for a new beginning. We stay alert and active in the present moment.
Waiting for Him to appear.
Watching with intense anticipation.
Hoping while embracing the tension of not knowing when or where or how, but knowing He will certainly come.
Waiting isn't a passive, hopeless state. Advent wait is actively seeking Him, searching for His presence, His next surprising, and unpredictable star frolicking across heaven.
We know God is here. He promised to come again for us. Whether we wait alone or with others, we wait, we watch with hope and conviction of His return.
Advent – Wait and watch, and always full of hope.
What Advent moment have you experienced this year?