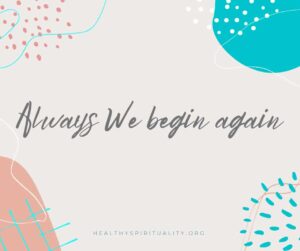 "Always we begin again." – St Benedict
I think of this wisdom – always we begin again – at the start of every new year. I love the energy of starting an unmarked calendar, the hope of a new year, and all the possibilities that await to be discovered and explored. A fresh week, month, and year hold promises, dreams and joy filled expectations.
I reread the writing in my journal. I called this "harvesting" and I glean the lessons from past 12 months. I honor all the experiences and emotions. I sit still, listening for the Holy Spirit's guidance and enter the past, summarizing life in the rearview mirror.
I wrote in 2011 on this blog: "January is the month of "Janus." Janus was the Roman god of gates and doorways, depicted with two faces looking in opposite directions – a good image of this first month of the year.  One face looks back on the year gone and the other looks forward to the new and uncertain one ahead. January is a reflective month – an opportunity to look back at the year behind us – letting go of our regrets and celebrating our joys, then we look forward also into the coming months."  Words still true today.
I spend New Year's Day trying to find the words to articulate where I think God is inviting me in 2022. Travels. Words to write and speak. New adventures, closer friendships, exciting knowledge, deeper love. I ask questions: What does this mean, Lord? And how do I know for sure where you are leading? I listen and wait.
Later I take out 2022 calendar and pencil in key dates – travels, retreats I want to attend, and anniversary, birthdays, and people to celebrate. Capture the important before shallow urgent tries to take over.
"With God, every moment is the moment of beginning again." Catherine Dougherty.
I listen for a word of the year to emerge. Starting in December I begin a list of potential words that may shape my coming year ahead. I scan readings and pay attention to podcasts and conversations for a word that shimmers in my soul. Slowly one always rises to the top.
For 2022, my word of the year is ALL. I want to give God my all. All always in all ways. Last year's word – GO – so short, simple, and wise created a desire in me to hold another ordinary little word for clear and straightforward light. I am collecting readings, phrases, and bible verses using the word all to guide my way. My morning prayers begin and end offering my all to God. Always begin again.
I am a goal setter and spend a day being stretched by establishing too many goals. I usually don't get to all of them in a year but know myself by this time in life that I do better writing my dreams out and working on at least some of them than getting hung up on perfection. Or worse, never starting at all on anything.
"Aim for the moon. If you miss, you may hit a star." W. Clement Stone
This all sounds complicated but in reality, it isn't. A time of remembering, renewal, and retrospect. A moment to reconnect with God. And with my true self hidden with concerns, uncertainty, and mud of the world. Blowing off the dust and muck of 2021 and turning forward with God's hope, grace, and guidance.
Always we begin again.
How do you begin again?