January is the month of "Janus." Janus was the Roman god of gates and doorways, depicted with two faces looking in opposite directions – a good image of this first month of the year.  One face looks back on the year gone and the other looks forward to the new and uncertain one ahead.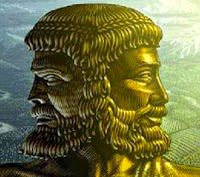 January is a reflective month – an opportunity to look back at the year behind us – letting go of our regrets and celebrating our joys, then we look forward also into the coming months. Many of us make well-meaning resolutions and hope we can achieve at least some of them.
January is a transition time. – the liminal space between two years.  William Bridges wrote a wonderful and interesting book about transitions,
Transitions: Making Sense of Life's Changes
and
The Way of Transition

. Transition is a the process of letting go of the way things used to be and then taking hold of the way they subsequently become. One of his concepts I appreciated learning was the three phases of change/transitions:
Ending
The Neutral Zone
New Beginning.
Transition can create a feeling of vulnerability.  The safety of the old year, our old life has vanished. The passage into the new unknown year may be threatening.
Chatting at the Sky has a great post about the fear we may be experiencing with the new year.  Read the comments there also – they are great. 
We don't have to feel that way though, when we know Who is the gate.  Who walks with us. Who protects us and guides us.

The gatekeeper opens the gate for him, and the sheep listen to his voice. He calls his own sheep by name and leads them out. When he has brought out all his own, he goes on ahead of them, and his sheep follow him because they know his voice.
But they will never follow a stranger; in fact, they will run away from him because they do not recognize a stranger's voice." Jesus used this figure of speech, but the Pharisees did not understand what he was telling them.
Therefore Jesus said again, "Very truly I tell you, I am the gate for the sheep. John 10:3-7