Am I losing my mind?  I felt that way.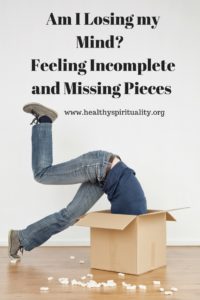 I wandered around the house, searching, feeling incomplete, knowing I am missing a piece.

I am as attached to my tiny step measuring buddy as I am to my smart phone and the Internet. Oh, and probably my hubby. 
WHERE ARE YOU??? (screaming this for my Fitbit, not my husband…..well, again, probably both)

I hadn't left the house since I checked my counter earlier in the day. Hey, it's got to here someplace! We hunted. We peered under counters and inside the crumbs of my favorite chair cushion (found a quarter and two missing game pieces though)  We aimed the flashlight into so many dark cob-webby corners I concluded I really do need to clean more precisely someday. We checked, rechecked and this morning checked again every nook, cranny and edge of existence.
No luck.  Disappeared.  Down the black hole where all the socks and favorite pens vanish.  Am I losing my mind? It has to be here someplace! (If you only read this blog by email, you may have to go to the blog to see the clip below)
Last evening at bedtime, I lamented my loss. Even though in the scheme of world crisis, legitimate grief of love ones and traumatic separations – my tiny episode spotlighted that some part of me disappeared and went missing. I felt incomplete. Yep, once again I wondered: Am I losing my mind to be so consumed by such a trivial loss?
A few weeks ago the Gospel lesson from Luke 15 told the story of the good Shepherd doing everything to find the one lost sheep.
Then Jesus told them this parable: 
"Suppose one of you has a hundred sheep and loses one of them. Doesn't he leave the ninety-nine in the open country and go after the lost sheep until he finds it?  
And when he finds it, he joyfully puts it on his shoulders
Luke 15: 3-5
This parable companioned me in my toddler tantrum about losing something insignificant, but wailing like it held more importance.  The true lesson is knowing the depth of search, the urgency of my determination to find my Fitbit and the ever watching/seeking to hold it again – is minuscule compared to God's relentless pursuit of one of his sheep. His ongoing quest to be with me.  He endless hunt to be with you.
The missing Fitbit is a reminder that I am incomplete without the Lord. I have a missing piece in my heart only he provides. The phrase "God Shaped Hole" comes to mind:
"What else does this craving, and this helplessness, proclaim but that there was once in man a true happiness, of which all that now remains is the empty print and trace?
This he tries in vain to fill with everything around him, seeking in things that are not there the help he cannot find in those that are, though none can help, since this infinite abyss can be filled only with an infinite and immutable object; in other words by God himself"
Pascal
God always surprises me with lessons he tucks into the ordinary circumstances of living.
[Tweet "God always surprises me with lessons he tucks into the ordinary circumstances of living. Jean Wise"]
I am grateful that he continues to teach us, shape us, and obviously has not given up on us, his sheep, his imperfect, crazy, sometimes goofy humans.
My Fitbit?  Still missing.  

God.  Still here.  Thank you, Lord!  
What lessons have you learned lately from everyday life?