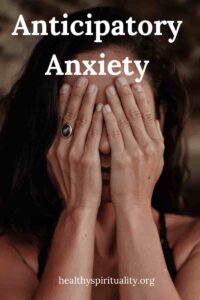 "Anticipatory anxiety. I think you are drowning in anticipatory anxiety."
A good friend said this to me several months ago and I can't seem to get that phrase out of my head – anticipatory anxiety. The more I ponder, read, and pray about this, the more I think she is right.
Anticipatory anxiety is the fear, dread, worry you experience before something happens. The "What if" type of thinking. The expecting the worse. The overwhelming emotions of failure before the event even started. Trepidation trembling in my toes through my tummy and trapped in my throat.
The day my friend shared her observation with me I was anxious for a zoom meeting with an editor about my book manuscript. I was sure to end up a failure when the opposite occurred. The meeting finished with a clear plan of action and the feeling that I could get this done. I had been wrong, very wrong, about what was to happen.
I have experienced anticipatory anxiety before going to out for an evening with people then having an unexpected great time.
Giving myself some grace, I know this is the body's normal response to perceived future threats. In the days and hours leading up to an important event a bundle of nerves can be normal.
What I have learned though is now to name it and reframe it. I can be prepared. I can think through different scenarios, included the worst case but I reframe my future with trust in God.
I mentioned to several people the other day that this fall I feel like I am not only juggling many balls but balls of slime. As much as I try control the globs, much still oozes messily down my arms and splatters on the ground.
Yet in prayer one morning, I realized God's hands were below my hands, catching and containing everything. He's got it!
God is in control.
I relax. I believe. I trust. I choose self-care and soul-care first, knowing all will be well whether I worry or not.
I choose anticipatory assurance in God instead of anticipatory anxiety.
Have you ever been caught up in this type of anxiety? What has helped you?