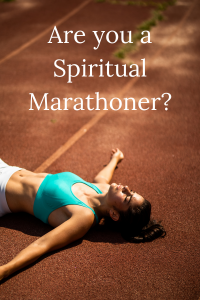 Are you a spiritual marathoner?
I am a not a runner. Yes, I do walk for exercise but run? No way!
If I did try running, I am sure I wouldn't go far before gasping for air or collapsing. My legs and my heart aches with the thought of running a marathon.
Yet, in many ways we are all running a collective marathon right now. It has almost been a year we have endured this pandemic – a life event we didn't choose, can't control, and we are not sure when it will be over. We are tired. We desperately want to get back to how we used to do things. We are emotionally and spiritually exhausted.
I said this to others serving in the church and friends of faith and all agreed. There is a bone weary, soul numbing fatigue.
"Hitting the wall" is a phrase marathoners use when every step feels like you are wading through concrete and you begin to doubt if you will ever see the finish line. In reality this feeling of defeat and discouragement usually arrives at about mile 20 of the 26 miles journey – more than halfway. The end of the race is closer than they realize.
Researchers have discovered that though the runner feels they can't go on, once they reach deep inside themselves, they find the strength and courage to keep going to complete the race before them.
We can complete this race too. God provides the strength and courage to continue forward. Two of my favorite verses from the Bible are Hebrews 12: 1-2: "Therefore since we are surrounded by so great a cloud of witnesses, let us lay aside every weight, and sin which clings so closely, and let us run with endurance the race that is set before us, looking to Jesus, the founder and perfecter of our faith."
We are people of faith. Yes, we may experience emotionally and spiritual exhaustion, but we are people of endurance when we look to Jesus.
We can fill our spiritual reserve by prayer, time with God, worship and scripture. We share with one another, listening when the other needs us. Crying with them. Companioning them. Also sharing with them what we are experiencing knowing that two can carry a heavy load better than one.
Just last week I scheduled an appointment with my spiritual director. I needed to talk and have someone listen in love and acceptance. I am journaling daily right now, digging deep for words to articulate how I am feeling. I am intentionally keeping my contemplative prayer time with God each morning. God is good, healing and nourishing my spirit.
We can sing and praise God for his goodness and kindness even in tough times. I love the story in Exodus 15 where the women packed and brought along their tambourines. As they outrun the Egyptians, they didn't know when they would dance again, but they were ready when the time arrived.
Will you finish well?
Get your tambourines ready. Let's be spiritual marathoners at the finish line. Fill your spiritual tank. Break through that wall and keep going. We can do this! God is good.
How are you doing, really?
Another way to ask: How is it with your soul?