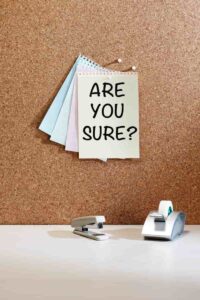 Are you sure? A friend asked me this question the other day and I paused. I love the power of questions (read about questions on these blog posts, here and here.) and use them as guides in my spiritual journey.
I have learned the spiritual practice of listening, playing, wrestling when I hear or read them. Questions provide growth, direction, and fuel our curiosity that leads to new ideas and insights. Problems that seem at one time insurmountable now have possible solutions. Answers lure us into comfort ruts while questions energize us to explore deeper and newer horizons.
Are you sure? I was surprised when this question exposed some uncomfortable emotions within me. Doubt, anger, second guessing. Was this the right step for me? Why drench this move with suspicion? I was ready to move forward and now am engulfed with misgivings.
Questions leave us unsettled and searching. Questions magnify what we already know that we don't know and are not in control. Questions rouse us from our comfort zones to enter the unfamiliar mystery of life and faith.
I noticed the question – are you sure? – jarred my spirit, an indicator to pay attention. I have learned to notice whenever the spirit shivers. Sometimes this subtle movement is small and barely traceable; other times more like an earthquake and hard to ignore. I detect what brings me joy and delight as much as what pricks and irritates my soul. Often this is a sign to pause and see God's lesson.
What is the next step when life jars your spirit? When "are you sure?" arrives at the doorstep of your soul?
Pause.
"Are you sure?" invited me to stop and listen to God. I seek some silence and stillness to hear God. To hear myself too. Pausing creates that sacred space.
"Are you sure?" revealed a crossroad -Do I continue straight ahead? Or maybe it is time to turn into a different direction. Did I miss another option? Time to reassess but not dwell too long in the mire of indecision.
How did I answer? In this particular situation the answer was clear – Yes, I was sure. The pause gave me affirmation and confidence to step forward. God's grace strengthened my faith and I stepped into that uncertainty knowing God was with me.
Could I have been wrong? Maybe. But pausing clarified God's guidance in this decision. My emotions can be helpful but also distracting. I appreciate my feelings as part of me, trying to help/protect me but with God's help I can choose the next steps even in fear and doubt. They come along, but let them don't drive the bus.
I love Jon Acuff's quote, "Fear is a wonderful teacher but a terrible CEO. If you ignore its lessons, you'll never know which dragons need to be slayed. If you ask it to be the boss though it will keep your life small because all it can see are dragons. Learn from fear but don't let it lead." True of all our emotions.
Sometimes we need to pause, but pausing means to stop briefly, temporarily. Pausing is not an excuse to quit, to stay forever in nomad land. Pause is a great response to the questions in life before proceeding into the possible answers.
"Are you sure?" is becoming a favorite question of mine – not for the self-doubt, but for the divine direction and affirmation it offers when I pause and listen once again.
What questions are teaching/forming you currently?