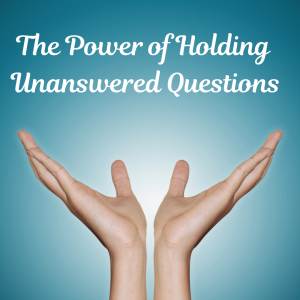 Unanswered questions shaped my recent retreat and continue to linger in my journals and contemplative talks with God.
I am a fixer and quick decider. I like the comfort of knowing answers or at least the next couple of steps on this adventure and gift of life God has given all of us. Tell me where I am going and what to expect and I will dig down and get there.
But that isn't God's way, is it?
Unanswered questions are the fertile ground of growth, formation, and surprises. I wonder why does this question nag my soul? What does it mean? What does it make possible? The best lessons emerge in the wrestling, welcoming, and wondering with each question.
I am going to be vulnerable and share with you this week some of these questions I am holding and listening to in this journey. I hope maybe they will resonate with you too and nurture your walk with God.
Unanswered Questions
What makes me sing and jump for joy?
Why would I throw away an opportunity to serve Jesus?
3-5 years from now what do I want my day to look like? I don't want to arrive at the end of my life with regrets.
What do I actually want/seek right now? Need? What am I longing for the most in this season?
What makes my heart full? What is life-giving to my soul?
What feels missing right now?
What stops me from drawing close to God?
Is it my ego, Lord, or is it your will?
What are my places of emptiness? My desert? My wilderness?
What would it look like for me to stop working so hard and trust God to work his way in his time?
Progress
I read and reread these questions. One will pop up and I journal about it. They brew like a good cup of coffee or seep in my soul like tasty tea.
When I first stumble into the question about joy, I was frustrated and sad that I didn't have an answer. But in the past few weeks since wrestling and grieving this question, joy appears. I see them like sparkles on the ground or finding a penny on the sidewalk. I run and pick it up, capturing it and savoring its essence. Something will surprise me and I think – "Ah-ha – there is a joy for my list!"
I find joy in the process of finding joy: blueberries, peaches, trees and flowers, my backyard, the beach, watching the waves, checking items off my to-do list, creating, writing in my journal, music, travel, Bill, feathers, birds soaring. And the list continues to grow.
Joy is the bridge to living and savoring life's moments with abundant love and in wild abandonment.
See why I am learning more from unanswered questions than knowing with certainty all the answers. This is a tough lesson to learn, isn't it?
"Have patience with everything unresolved in your heart and to try to love the questions themselves as if they were locked rooms or books written in a very foreign language. Don't search for the answers, which could not be given to you now, because you would not be able to live them. And the point is to live everything. Live the questions now. Perhaps then, someday far in the future, you will gradually, without even noticing it, live your way into the answer."
What unanswered question would you add to the list or which question resonates most with you?