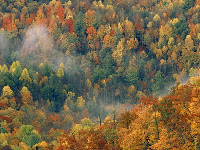 Lord, I enjoyed our meal together this morning.
My eyes feasted on the seasonal smorgasbord surrounding me –
   Light bouncing through the crevices of the clouds,
     Patches of trees blazing with brilliant oranges, burnt browns, and deepening reds,
        Fog drifting gently across earthen sea.
I drank in the beauty of geese rising in formation,
   Deer gleaning the harvested fields,
      Leaves dancing with the wind.
Lord of the harvest, You express exquisite creativity in nature.
   This annual autumn feast reveals Your glory
      I am amazed and grateful that You prepare this fall feast for our enjoyment.
And I think You, Lord, must take delight in this time of year also.
****************************************************************************
Fall is NOT my favorite time of year, but the morning I wrote this prayer I was overwhelmed by its beauty. Autumn reminds me of the cycle of life and that even as things appear to be dying, they are also becoming new again.
What does fall show you?