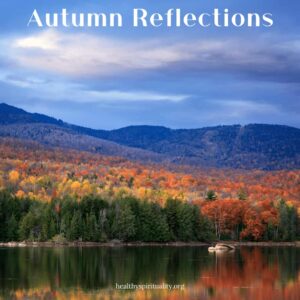 Autumn invites us to reflect. We sense the year wrapping up and we wonder where the time has gone. We remember what we wanted to get done and can no longer even find the paper where our hopes and dreams were recorded. We watch the leaves fall, urging us to also let go of busyness and burdens.
If you are a long-time reader of this blog, you know I collect quotes. I love these tiny bits of wisdom. Words inspiring me to pause and ponder. Breathing in what others wrote that resonates in my soul.
Here are a few of my favorite autumn reflections:
At no other time (than autumn) does the earth let itself be inhaled in one smell, the ripe earth; in a smell that is in no way inferior to the smell of the sea, bitter where it borders on taste, and more honeysweet where you feel it touching the first sounds. Containing depth within itself, darkness, something of the grave almost. Rainer Maria Rilke
Is not this a true autumn day? Just the still melancholy that I love – that makes life and nature harmonies. The birds are consulting about their migrations, the trees are putting on the hectic or the pallid hues of decay, and begin to strew the ground, that one's very footsteps may not disturb the repose of earth and air, while they give us a scent that is a perfect anodyne to the restless spirit. Delicious autumn! My very soul is wedded to it, and if I were a bird I would fly about the earth seeking the successive autumns. George Eliot
It's the first day of autumn! A time of hot chocolatey mornings, and toasty marshmallow evenings, and, best of all, leaping into leaves!  Winnie-the -Pooh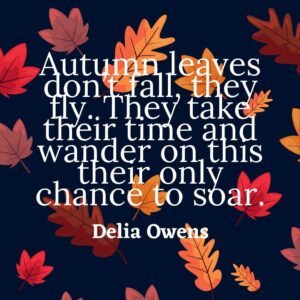 Summer is already better, but the best is autumn. It is mature, reasonable and serious, it glows moderately and not frivolously…It cools down, clears up, makes you reasonable…Valentin, Finnish writer
Fall is not the end of the gardening year; it is the start of next year's growing season. The mulch you lay down will protect your perennial plants during the winter and feed the soil as it decays, while the cleaned up flower bed will give you a huge head start on either planting seeds or setting out small plants. Thalassa Cruso
Winter is an etching, spring a watercolor, summer an oil painting and autumn a mosaic of them all. Stanley Horowitz
Anyone who thinks fallen leaves are dead has never watched them dancing on a windy day. Shira Tamir

I used to dislike fall since I knew its appearance meant winter was coming. Now I appreciate this special time of year for its gifts and lessons.
Autumn reflections.  What about you? What do you like about Autumn?