Meteorologists tell us that every cloud contains a weather message. God sculpts all types of clouds as messengers of hope from Him to help us weather the storms in life.
I have been exploring clouds for a possible book proposal and want to share with you over a series of posts some of the lessons I have discovered by becoming a Cloud Chaser.

 
Join me: Become a child once again and capture the wonder as a cloud chaser. God's canvas shows us surprises every day if we just take the time to look up, look inward, and look beyond our ordinary day-to-day drudgery.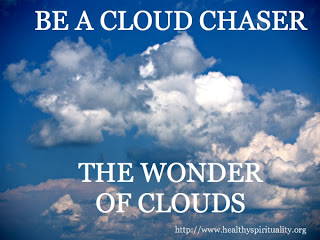 I am fascinated about clouds. God really outdid Himself when He added them to His sky. Today I want to share some amazing features about clouds. Hopefully you too will get excited about clouds and come along with me discovering their daily messages.
1. "Clouds and cloud shapes are the greatest free show on earth, It doesn't cost a penny to look up and feast your eyes on the view."

 

John Day.
2.

 

A cloud is a collection of millions of very tiny droplets of water or ice crystals. The droplets are so small and light that they can float in the air. It takes somewhere between a few minutes and 1 hour for a cloud to be created.
3.

 

Clouds are white because they reflect the light of the sun. Light is made up of colors of the rainbow and when you add them all together you get white.
4. In 1803 a classification of clouds was made up by Luke Howard who used Latin words to describe their characteristics.
·

     

Cirrus – tufts or wisps
·

     

Nimbus – rain bearing
·

     

Cumulus – a heap or pile
5. Cumulonimbus are the biggest clouds, located at around 6 miles above us. These clouds are believe to hold up to half a million tons of water.
6. As thunderheads reach high elevations, their tops encounter high winds that cause them to spread out sideways, earning them the nickname "anvil tops." They can reach elevations of 50,000 feet.
7.

 

Cloud droplets are extremely small. They are about ten thousandth of an inch across, a thousand times smaller than a raindrop. One cubic foot contains 350,000,000,000 droplets with diameters smaller than the width of a human hair. A typical raindrop contains 15 million droplets.
8.

 

A typical cumulus cloud weighs as much as eighty elephants. A Sanskrit legend about how the world was created tells that in the beginning elephants were white, had wings to fly and even could change their appearance at will, especially if they wanted to bring rain. (Aren't we glad elephants can't fly today?)
So take some time to look outside and observe how God decorated the sky today. I know when I do, I will praise our Creator for His imaginative, wondrous, and beautiful gift of clouds.
What fascinates you about clouds?