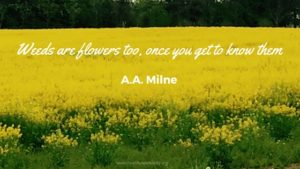 I slammed the brakes. Slowly down enough, I turned onto the side road to get another look. What a beautiful sight!
The field on the south side of the road erupted in vibrant yellow mustard. Maybe God splashed some sunshine on earth in a new way. Or maybe he has a craving for butter  as he created an abundance of this shade all over our county.
The pasture glowed in bright canary yellows.
Interesting enough, this wasn't a preplanned, carefully cultivated field of flowers.  No, the field overflowed with weeds.

Weeds are nature's graffiti.
J.L.W. Brooks
Since I was seeing so many pockets of this weed in these fields, undulating like seas of yellow, I did some research. Most websites referred to a plant called the cressleaf groundsel.  It has been spreading throughout the Midwest for the past 20 years, especially in no-till farming and in a wet spring. We certainly have had a cool wet spring in Ohio.
Weeds – yes.  Beautiful – yes!
As one grows older one should grow more expert at finding beauty in unexpected places,
in deserts and even in towns,
in ordinary human faces
and among wild weeds.
C.C.Vyvyan
I have enjoyed seeing this unexpected beauty as I drive through our rural area and this weed is reminding me of some important life lessons.
Perspective. God and beauty is everywhere and in everything. If the eyes and heart are open, splendor surrounds us.  The definition of a weed is really subjective. To one person, a weed is a nuisance, a bother and quite ugly, but to another this plant may be food, flower, or medicine. How often many of us gratefully receive a batch of dandelions gathered by a young loved one. We make a wish by blowing its feathery flowers.
Our perception, our mindset, our attitude steer how we see the world and our circumstances. When I get discouraged, focusing only on the negative, my point of view sees an ugly mess. But remember God is always with us, even in the muddy untilled fields of life showing us his presence and beauty.
What is a weed? A plant whose virtues have never been discovered.
Ralph Waldo Emerson
Persistence. I can't get rid of weeds in my backyard flower garden. My muscles ache after a day of pulling, yanking and digging them up from their cement foundations. Weeds put their roots down deep and as a result they survive where other things do not. Hence the old saying, "You cannot kill weeds."
When my roots sink deep into God's word and presence, I too feel his strength, perseverance, and endurance. It is not with my mere human determination or might – only with God do I find life.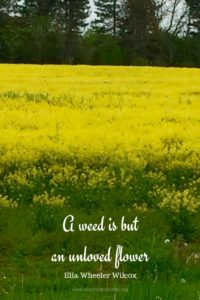 Purpose. We may call them "just a weed" but they have a purpose – feeding the insects, holding the topsoil, showing us unexpected glimpses on God's creative artistic work. Weeds can thrive anywhere and their adaptability – the ability to handle change (or be changed) and to thrive in a variety of settings is essential to their ongoing survival.  This is so true for us too. I love the image of being the clay in the Potter's hands – pliable, amenable and giving myself over entirely to God's purpose and plan.
A weed is a plant that has mastered every survival skill except for learning how to grow in rows.
Doug Larson
One last story about weeds to ponder:
A man who took great pride in his lawn found himself with a large crop of dandelions.
He tried every method he knew to get rid of them.
Still they plagued him.
Finally, he wrote to the Department of Agriculture.
He enumerated all the things he had triedand closed his letter with the question,
"What shall I do now?"
In the course the reply came:
"We suggest you learn to love them."
Anthony de Mello
God constantly whispers his love lessons to us if we pay attention and notice his movement, even in the weeds of life. And if we keep our eyes and heart open, we find his beauty there too.
What are you seeing among the weeds lately? Where have you found God's unexpected beauty?