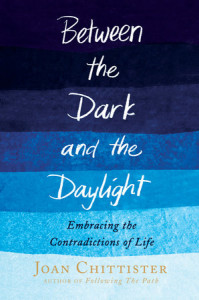 We all hit the wall at times. Tensions tug. Paradoxes confuse. We wandered through the thick mud of contradictions of life.
Knowing this is all too common for many of us is what drew me to Joan Chittister's newest book. Between the Dark and the Daylight – Embracing the Contradictions of life.
I have read her words of wisdom before and knew this would be a wonderful thought provoking exploration of the paradoxical moments of life. What lessons can we learn in these times? What insights could we share with others?
The truth is we don't live in a clear right vs. wrong, black vs. white world – we drift and try to see and survive through varying shades of grayness.
This book lived up to its marketing. Chittister presents 32 common dilemmas – such as "The Delusion of Frustration", "The Insecurity of Certainty", "The Emptiness of Accumulation", and "the Role of Failure in Success" and discusses with the reader the meaning behind these tough issues. Each chapter is short, easy to read but contains wisdom and tips to consider. She leads us to ponder the possibilities found in each murky question.
I turned down so many corners of the pages and underlined so many sentences it was difficult to decide what words of hers to share. Here are a few quotes I finally settled upon:
"We call frustrating anything we want the world to confirm as justification of being unable to control the way we think. It's what we use to explain the sour or pouty or demanding or manipulative attitudes we have developed. It is the right we assert to be less than we are capable of being."
"Risk, the willingness to accept an unknown future with open hands and happy hearts, is the key to the adventures of the soul. Risk stretches us to discover the rest of ourselves – our creativity, our self-sufficiency, our courage. Without risk we live in a small world of small dreams and lost possibilities."
"The illusion of self-sufficiency is a very serious emotional barrier to being able to negotiate the real tasks of life. It denies us the gift of criticism: there is no one to tell us what we need to know and no one we are willing to listen to. We isolate ourselves from the very things we need to plot the success we seek."
I plan to reread this book with my journal – using her words to form my prayers to hear God amidst the foggy times and to glean in clearer moments, lessons from my experiences. The book would also serve as a great small group discussion.
Don't expect answers to all life's problems in this book. But use it as a guide to go deeper in your own journey.
I received this book from Blogging for Books for this review but wasn't required to say anything positive.
Between the Dark and the Daylight is worth your time to check out.
What is your latest book find?