Bird's Eye View
My four-year-old twin grandsons saw him first. A young robin had fallen from his nest in the large tree in our front yard
"Don't touch him," I cautioned.  Of course being boys, they didn't like that advice.
I explained to them that the mommy and daddy bird may be watching us and may still take care of the baby if we let him alone.  We kept a far distant eye on that little fellow the rest of the day.
It wasn't until evening that I remember our tiny buddy and wondered how he was doing. I peered out my front window to that area of the yard and sure enough, one of the parent robins hovered near her prodigal son.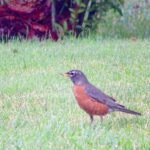 Over the next few days, every time we looked that direction, a vigilant robin was either on the ground near the baby, finding worms to feed their little one, or watching above from the telephone wires. Whenever one of us would be in the front yard, the sharp-eyed guard would squawk multiple warning shrieks.
Extra protection under watchful eyes.
His Eye is on the Sparrow
Reminded me of the song "His Eyes are on the Sparrow."  I love the lyrics:
 "His eye is on the sparrow and I know He watches over me. His eye is on the sparrow; and I know He watches me. I sing because I'm happy. I sing because I'm free! His eye is on the sparrow; and I know He watches me. His eye is on the sparrow; and I know He watches me."
I didn't know the story behind that well-loved song of faith so looked it up and thought it would be good to share.
Civilla Martin, the wife of a Baptist pastor, wrote the words in 1905.  Here is how she told about writing this song:   
"Early in the spring of 1905, my husband and I were sojourning in Elmira, New York. We contracted a deep friendship for a couple by the name of Mr. and Mrs. Doolittle—true saints of God.
Mrs. Doolittle had been bedridden for nigh twenty years. Her husband was an incurable cripple who had to propel himself to and from his business in a wheel chair. Despite their afflictions, they lived happy Christian lives, bringing inspiration and comfort to all who knew them.
One day while we were visiting with the Doolittles, my husband commented on their bright hopefulness and asked them for the secret of it.
Mrs. Doolittle's reply was simple: 'His eye is on the sparrow, and I know He watches me.'
The beauty of this simple expression of boundless faith gripped the hearts and fired the imagination of Dr. Martin and me. The hymn 'His Eye Is on the Sparrow' was the outcome of that experience."
A tiny bird falls from its nest and watchful eyes protect it. We may stray from God's path, a loved one may quit the church, a friend may betray our trust – yet God stays with us and with them. We may drift and wander off, but we never really fall far from God's nest and watchful eyes.
That tiny bird in our front yard really had no idea of the dangers and the protection that encircled him. His "bird's eye view" limited the scope of his vision. He couldn't see beyond a few blades of grass or if he could, even imagine the defensive care that surrounded him.
How true for us too!
Our own bird's eye view of our circumstances constrains our perception. We think we are seeing the whole picture yet our human vision, dimmed by sins, worldly values and fear, obscure the reality of God's presence.
Just because we don't hear God, see him or feel his touch, we assume he isn't here.
I need to remember that the next time I fall headfirst into muddy life, get lost in the high grass of confusion and chaos or buried beneath disappointment and anxiety.
God is watching over us.  And that is the best bird's eye view ever.
Are not two sparrows sold for a penny? Yet not one of them will fall to the ground apart from your Father. And even the hairs of your head are all counted. So do not be afraid; you are of more value than many sparrows.
Matthew 10:29-31

How have you experienced God's watchful protection lately?