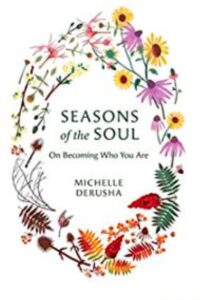 Seasons of the Soul, On Becoming Who You Are is a new book written by one of my favorite authors, Michelle DeRusha.
The book takes you through the four seasons of the year with delightful detailed observations, thoughtful lessons from nature, and spiritual formation wisdom and healing we all can use. Michelle incorporates great quotes and personal antidotes that keeps you reading.
I love Michelle's raw honestly as she struggles to let go of ego and world driven expectations and her discovery of her true self.  She models for us a way of discernment, listening to God, and how to allow ourselves to be how God created us to be.
As a fellow writer, I loved her use of imagery and language. Here is an example:
"This morning from my desk at the sunroom widow I caught sight of the yellow iris waltzing in the spring breeze, ruffled petals swishing like the hem of a flamenco skirt."
A shelf worthy and time worthy book! This is one book I am keeping by my prayer space for intentional reading throughout the year.
What new books are you reading right now? Let's share ideas for new reads.