How does your season of life affect how you pray? Last Thursday we began to explore the seasons of prayer and listed the many ways to describe your current chapter of life.
With 2018 being the year of prayer here on the Healthy Spirituality blog, this month we are looking at seasons of prayer and of life. Each month this year on the Tending the Holy Thursdays there will be a focus on an aspect of prayer.
On my Thursday posts, I pick one theme (or person of faith) to explore deeper. I call this series Tending the Holy Thursdays. This month we've looked into our reasons to pray.
I did complete a printable for you called the "Seasons of Prayer Worksheet" which asks leading questions to help you explore and name your season, what emotions dwell in this time for you and possible ways to praying. You can download this free worksheet by clicking the button at the end of this post.
Today I'd like to share with you some examples of prayers for particular seasons of life. I hope some of these prayers give you the words to describe where you are right now and the inspiration to write out your own prayer for your season.
Prayers for Seasons
Prayer for Discernment by Thomas Merton
O Lord God, I have no idea where I am going,
I do not see the road ahead of me,
I cannot know for certain where it will end.
Nor do I really know myself,
And that fact that I think I am following Your will
Does not mean that I am actually doing so.
But I believe That the desire to please You
Does in fact please You.
And I hope I have that desire
In all that I am doing.
I hope that I will never do anything apart from that desire to please You.
And I know that if I do this You will lead me by the right road,
Though I may know nothing about it.
Therefore I will trust You always though I may seem to be lost
And in the shadow of death. I will not fear,
For You are ever with me,
And You will never leave me
To make my journey alone.
The Hope of Spring
God, thank you for Spring and the hope of warmer, longer, brighter days.
Thank you for the coming of growth and life and birth.
Thank you that things are coming awake in the world.
This is what our calendar says, and we do see some signs that it is real.
But we also still struggle with the residual layover of winter.
Now we ask that you bring into reality all that belongs in this season.
Your word says that we will have provision, and hope, and joy, and health and loving relationships here and now in this life.
We ask that what belongs in this season would become actual in our practical lives.
We hope in you and in your promises. We hope in your gift of Spring.
– Author Unknown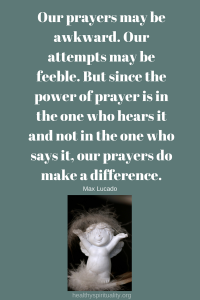 Prayer of Hope
When evil darkens our world, give us light.
When despair numbs our souls, give us hope.
When we stumble and fall, lift us up.
When doubts assail us, give us faith.
When nothing seems sure, give us trust.
When ideals fade, give us vision.
When we lose our way, be our guide!
That we may find serenity in Your presence, and purpose in doing Your will.
John D. Rayner
At the Beginning of the Day
O God,
I find myself at the beginning of another day.
I do not know what it will bring.
Please help me to be ready for whatever it may be.
If I am to stand up, help me to stand bravely.
If I am to sit still, help me to sit quietly.
If I am to lie low, help me to do it patiently.
If I am to do nothing, let me do it gallantly.
I pray just for today, for these twenty-four hours,
for the ability to cooperate with others according to the way Jesus taught us to live.
"Your kingdom come, your will be done on earth as it is in heaven."
May these words that he taught us become more than words.
Please free my thinking and feelings and the thinking and feelings of others,
from all forms of self-will, self-centeredness, dishonesty, and deception.
Along with my brothers and sisters,
I need this freedom to make my choices today according to your desires.
Send your Spirit to inspire me in time of doubt and indecision so that, together, we can walk along your path. Amen.
– J. Veltri, S.J.
For Times of Transition
God of Love,
You are with us in every transition and change.
As we enter into this new era with excitement and even some anxiety,
we recall your deep compassion, presence, and abounding love.
We thank you for the gifts, talents and skills with which you have blessed us.
We thank you for the experiences that have brought us to this moment.
We thank you for the work of others that gives breadth and depth to our own work.
Be with us as we move forward, rejoicing with you and supporting one another.
We ask this in your Holy Name. Amen.
– Joseph P. Shadle
Prayer for Peace
Father God, my heart is filled with chaos and confusion.
I feel as if I am drowning in my circumstances and my heart is filled with fear and confusion.
 I really need the strength and peace that only You can give.
Right now, I choose to rest in You.
In Jesus' Name I pray, Amen.
 Mary Southerland.
Don't forget the printable I created for you called the "Seasons of Prayer Worksheet" that includes questions to help you explore and name your season, what emotions dwell in this time for you and possible ways to praying. You can download this free worksheet by clicking the button below.
Do you have a favorite prayer that resonates with your season right now? Which prayer above touched your heart?