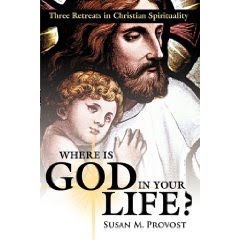 Attention: Retreat leaders and small group facilitators
.
I discovered a great reference to add to your library.
Where is God in your Life?
by Susan M. Provost.
The purpose of this book is to help us see God in our lives and to know His love. The book is uniquely set up in the style of three two-day retreats with the topics of spirituality, understanding the soul, Christian spirituality, God's presence, prayer, and spirituality within the community.
The author shares ideas for icebreakers, Biblical readings, music, and even the time schedule.
How handy for a busy retreat leader.
The strength of the book's resources lies with the strong narrative – the type of "meaty" material that adds depth to a retreat. The book explores the teachings expressed by Janet Hagberg and Robert Guelich and is an examination of the six stages of a person's faith journey:
(1)recognition of God;
(2)the life of discipleship;
(3)the productive life;
(4)the journey inward and meeting the wall;
(5)the journey outward;
(6)and the life of love.
"Most people can achieve stages one through three within their church community, but there is little support currently available to help a person realize stages four through six. Where is God in your Life and the workshops designed around my teachings offer a platform to help people arrive at the final three profound levels when traveling the road to faith."
The use of prayer and Bible readings throughout the retreat provide a strong foundation to her program.
She has a clear presentation of How To Start Praying and a clever tool called, Build-a-prayer.
Since many people struggle in how to pray, this is a wonderful addition. Other spiritual practices such a lectio divina and centering prayer are also introduced.
Susan Provost is a Spiritual Director and has a Masters of Arts Degree in Spiritual Formation and Leadership from Regis University in Denver Colorado. She is a teacher of religious education and spirituality for both children and adults. She also gives workshops called "nourishing your soul" to local women's groups in her area.
Where is God in my Life?
Is full of rich resources of material that will help others discover God.
I recommend it for retreats and small groups.