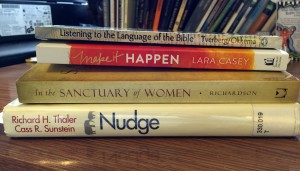 I do love reading and confess I am a book addict. When I see someone reviewing or mentioning a new book I am lured to check it out. I love our local library but also have Amazon on computer speed dial. Yes I love books.
I thought I would share with you today what is on my reading stand for this month. One I just finished, two are just being started ( Yes I am one of those who usually has more than one book going at a time,) and another one I read in late fall but am rereading to savor its wisdom.
Make It Happen – Surrender Your Fear, Take the Leap, Live on Purpose – by Lara Casey.
This is a new book by the editor of Southern Wedding magazine. The book is a mix of her own story and tips and encouragement to getting back on track based on what you want out of life and where God may be leading you. I finished this book quickly and feeling encouraged and uplifted. Did I learn anything brand new? Not really. I think her audience is younger adults – she is an editor of a magazine targeting this age group so writes for that age group. I felt I had heard much of her message before from other people. She does give some great examples, helpful tips and the writing is very light and enjoyable to read. I got this book free in exchange for a review and am not required to give it a good report.
Listen to the Language of the Bible – Hearing It Through Jesus' Ears. By Lois Tverberg.
I actually found this book in a gift store on our trip to Israel and have just begun reading it. The author takes words and concepts from Jesus' time and frames them with new insights. Too often we read the scriptures from our 21st century American eyes and heart and forget the other aspects and nuances to words and their meaning. This will be a great resource for small group lessons and my own personal Bible study, looking deeply at 60 different Hebrew words. Highly recommend.
In the Sanctuary of Women by Jan L. Richardson.
I read this on my Kindle in the last fall, highlighting so many passages I just knew I needed a print copy to hold and mark up with my own pen in hand.  I am rereading this book now, savoring its words. I love how she includes blessings throughout the book and each chapter holds a "secret room" or a pause to uncover a new perspective. This book breathes wisdom and food for our souls and is quickly becoming one of my favorites. I do love her writing. Each chapter she uses women such as Eve, Brigid, the Desert Mothers, Harriet Powers and Hildegard of Bingen as illustrations. Highly recommended.
Nudge – improving Decisions about Health, Wealth and Happiness by Richard Thaler and Cassx Sunstein.
I just got this one from our public library and look forward to reading its contents about decision making. Their concept is as humans we can design choice environment that make it easier to choose what is best, thus "Nudge"ing us in the better direction. I am hoping after reading this book that I am less tempted to snack on that chocolate and choose an apple instead. ( :
What are your reading this month?