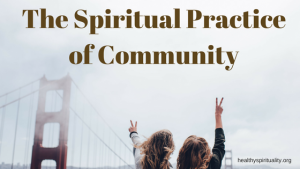 Community – Community is August's Tending the Holy Thursday theme. Each month on my Thursday posts, I pick one theme (or person of faith) to explore in depth over several weeks.
Last week we began to explore this topic by looking at the spiritual practice of community.
How can we build community? Two ways is through the power of asking questions and active listening.
Each month I also include a free download to accompany the month's topic. Since I am an introvert and find creating, dealing, and being in community challenging at times, I created a one page "The Introvert's Guide to Community," with 15 ideas how to practice this spiritual discipline. This PDF is available at no cost by clicking the button at the end of this post.
Building Community through Questions
As an introvert, I use to hate small talk. I didn't know how to engage the other person or where to even begin. My anxiety rose in group settings where the expectation was for conversations and "getting to know you" style of discussion. UGH!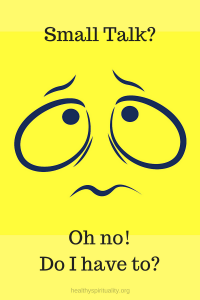 Social chit-chat is an opening for connecting with another person and an early step in building community. I began developing a skill in bantering as a reporter for our local newspaper. I created a list of questions to have in hand when interviewing another person.
Most people love talking about themselves. I would start slowly with simple questions before going deeper. Sometimes I needed to ask several questions until I found their passion, then they would bloom into personality.
"There is no such thing as a worthless conversation, provided you know what to listen for. And questions are the breath of life for a conversation."
— James Nathan Mille
The value of assembling a resource list of questions to draw upon in a social setting gave me the confidence to interact with others and build a connection with them. I discovered I could build community with others through the power of asking questions.
Here are some examples:
Where is your home town?
What is your job?
What would you do if money wasn't an object?
Who is your favorite super hero? Bible character? Bible verse?
What is your favorite food?
What is your favorite thing to do this time of year?
Favorite book? Writer?
Tell me something you are good at? Gifted in?
What did you want to be when you grew up?
What is the best advice you have ever gotten? What scares you the most about the next year?
Share a happy childhood memory.
What feeds your faith now?
Describe your ideal vacation.
What gives you hope?
What have struggles and challenges you have faced taught you?
What job would you be terrible at?
Are you usually early or late?
Are you a morning person or a night owl?
What's your favorite genre of book or movie?
What's the farthest you've ever been from home?
How different was your life one year ago?
What's the best way to start the day?
I think you can sense which questions are best earlier in a relationship and how many would not always fit a conversation. Also be prepared to reveal your own answers because building community requires dialog and mutual sharing. How would you respond to your own list of questions?
In many situations with groups, often the opening question is what have you been doing lately? Think ahead of time how to you would answer that so if that comes up you have a response and bridge to conversation.
Just today I was asked what brings me joy lately? Thank heaven someone else around the table began first, so this gave me a few seconds to formulate my answer. And the four of us bonded fairly quickly after hearing each response. I plan to remember that question!
I found you can tell pretty quickly people who may be uncomfortable with questions. Often they do better in a small group and not in a one to one discussion.
Check out the conversation starters here.
Being prepared with some common questions and willing to share in your own experience helps us introverts survive and thrive in social settings and is a quick way to build community.
Building Community through Listening
Let the wise listen and add to their learning and let the discerning get guidance
Proverbs 1: 5 (NIV)
I nodded and pretended to be fully listening as my husband shared a story with me. The truth was I was listening to the noise inside of my head – "Oh, I forgot to tell him that….I need to get that done before bedtime….I wonder how much longer is on the timer before supper is done…."
Not really listening, was I? And I am trained as a spiritual director, one who listens intently to another's spiritual walk. HA! I am failing at basic listening skills lately.
I would wager many of you don't fully hear another person either. We get too busy planning what we will say next or thinking about our to-do lists. And adding to the internal commotion, all the external noise that interferes with effective communication – blaring sounds from the television, chirping as emails arrive, and our smart phone dinging with a text message.
To be a good listener, I need to be silent. An anagram rearranges or unscrambles the letters of one word to create a new word. Use the word silent as an anagram and the result is: SILENT = LISTEN.
What a wonderful gift we can give each other – to attentively listen to what is said and what is not being said. To listen with both our ears and our heart is to be fully present to another human being. People have a great need to be heard as a real person, a person who merits attention and respect. Tragically we miss opportunities all the time to affirm each other through listening.
Listening build community.
To really hear the other person is to accept them and allow them space to express themselves freely without judgment, interruption, or our opinions or quick fixes.
If you're like most people, you probably seek first to be understood; you want to get your point across. And in doing so, you may ignore the other person completely, pretend that you're listening,
selectively hear only certain parts of the conversation
or attentively focus on only the words being said,
 but miss the meaning entirely.
So why does this happen?
Because most people listen with the intent to reply, not to understand.
You listen to yourself as you prepare in your mind what you are going to say,
 the questions you are going to ask, etc.
You filter everything you hear through your life experiences, your frame of reference.
You check what you hear against your autobiography and see how it measures up.
And consequently, you decide prematurely what the other person means
before he/she finishes communicating.
Steven Covey
How can we listen better?
To listen to another is to be silent. Quiet your next words. Hush your mind. Still your heart and just listen
Ask God to help you listen more attentively.
Pay attention to what is being said and what is not being expressed
Be open and accepting, not judging.
Ask questions to clarify and to help you identify the emotion behind the story.
Practice. Practice. Practice.
Hearing another person deeply fosters intimacy, friendship, and community. We share in their journey and know them better. We come alongside them as we walk together through life.
We share joys and troubles. We help the other person and share space and resources. We bond with mutual values. We spend time with one another listening, sharing, laughing, and crying. We accept each other's stories and learn to understand each other's points of view.
Building community takes time to nurture the relationship, courage to be vulnerable, and trust to grow love and compassion. Listen.
Listening is such a simple act. It requires us to be present, and that takes practice, but we don't have to do anything else. We don't have to advise, or coach, or sound wise. We just have to be willing to sit there and listen.
Margaret Wheatley

Don't forget to download your free PDF "The Introvert's Guide to Community" by clicking the button below.
Next week we will dive into the difficulty waters when community hurts and doesn't work – a reality we all face at times.
What questions help you connect with others and build a deeper relationship? How does listening make you feel and do you think it would help in community building?