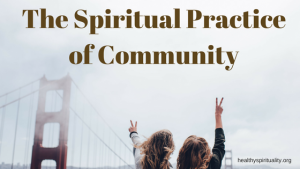 Community – this was the surprise answer from many of you when I asked last year on my annual readers survey this question: What spiritual practice would you like to learn more about?
I expected and did hear the answers such as prayer, slowing down to be with God and how to hear God. I never thought creating community would be checked off as often as it did.
Let's talk about this topic this month as August's Tending the Holy Thursday series. Each month on my Thursday posts, I pick one theme (or person of faith) to explore.
Each month I also include a free download to accompany the month's topic. Since I am an introvert and find creating, dealing, and being in community challenging at times, I created a one page "The Introvert's Guide to Community," with 15 ideas how to practice this spiritual discipline. This PDF is available at no cost by clicking the button at the end of this post.
Be sure to sign up to get Healthy Spirituality in your inbox, so you don't miss any of the weeks (I promise I never over-send stuff to you). And invite your friends to this blog and share on social media. I sure do appreciate the support in spreading God's word.
Community
The Christian community is not a closed circle of people embracing each other,
but a forward moving group of companions bound together
by the same voice asking for their attention.
Henri Nouwen
Whether we are introverts or the life of the party, we live in community.
One of the strongest basic human needs is the need to belong. We find this in a variety of ways, such as work settings, church, social gatherings, and one on one conversations.
We connect in small group settings. It appears in the deep sharing and intimate conversations with a close companion. We experience community when learning in a class or sitting quietly by ourselves in a huge praise-filled church. Community is found in both large and small places.
Community is a hunger, a longing in our society. I sense this yearning to belong intensifying in this century. Our connections with one another are fractured. We feel we can't talk to one another without offending someone. An undertone of suspicion and mistrust invades our communication.
We search to satisfy this longing amid today's rapid changes and growing diversity and globalization. The reality is we won't be going back to "old ways" where church was the center of all activities and we were homogenous in work, ethics, and beliefs. Those old wine skins no longer fit.
We miss the connecting and its gifts of acceptance and understanding one another. Community is a place to learn and thrive and not feel awkward in trying to figure out this thing we call life. Community provides space to explore, discover, and feel safe.
God Created Us to Live in Community
God created the first man, Adam and gave him work to do. He established a protective, life-giving space for man to live. But soon God knew man needed more.
The Lord God said, "It is not good for the man to be alone.
I will make a helper suitable for him."
Genesis 2: 18
God created us for and in community.
Even better, God longs to be with us with others.. He loves to walk with us in our lives and be with us as we gather together. God loves community.
I understand the need to belong. I see the necessity of community, but the introvert inside of me squirms. Too many people drain my energy. People can be difficult. I know from personal experience people can hurt. I feel vulnerable so I run from people and interactions, even though I need its energy and wisdom.
How do we do community in a healthy way? How can we discover our story within other people's story all within God's story?
I wrote a full chapter about community in my latest book, Fuel your Faith – A Practical Guide to Igniting a Healthy Spirituality. The e-book version is available at no cost – yes, FREE – on Amazon or you can order the print version.
In Fuel your Faith, I expand on the ideas of sharing, knowing, and listening as skills in creating community.
Sharing in Community
We share our stories and get to know one another's backgrounds. We gain understanding about how each other think, we share what we believe, and why we are passionate about what we do. This knowledge gives us greater understanding and acceptance.
I love our church's adult Sunday School. Though not many people attend, our small group has developed a sense of walking with one another through life's ups and downs. We participate in a trusting environment where we are missed if we don't come and feel comfortable expressing doubts, fears, and confusions. We continue to grow, learn, and explore more about God with one another.
Our stories entwine with one another with roots deep in God's love. The act of sharing affirms and builds these bridges leading to the sense of belonging. Community becomes grounded in the word "we" and less in the word, "they."
Knowing in Community
Everyone has a story to tell. Everyone's story gives the other person insight to our own actions, behaviors, and thoughts. God lives within everyone's story if we only take the time to see his presence in another person.
Seek first to understand, then to be understood.
Steven Covey
A good start to knowing others is to learn their story. Let your guard down and share your story. What are the defining moments in your life? How did you get to know God? When do you experience his presence? What is unique in your life's journey and your quest to know and follow God?
Next week I will share a list of multiple questions to ask when getting to know others.
Knowing another person takes time, openness, and a willingness to listen. We begin to relate to one another on a deeper level. Once we understand others, compassion and community grows.
Listening in Community
The gift of listening to another is priceless and rare. The other person often doesn't need to be fixed or to hear the blah-blah-blah of advice. They just need to be heard.
If you're like most people, you probably seek first to be understood; you want to get your point across. And in doing so, you may ignore the other person completely, pretend that you're listening,
selectively hear only certain parts of the conversation or attentively focus on only the words being said, but miss the meaning entirely.
So why does this happen?
Because most people listen with the intent to reply, not to understand.
You listen to yourself as you prepare in your mind what you are going to say,
the questions you are going to ask, etc.
You filter everything you hear through your life experiences, your frame of reference.
You check what you hear against your autobiography and see how it measures up.
And consequently, you decide prematurely what the other person means
before he/she finishes communicating.
Steven Covey
Hearing another person deeply fosters intimacy, friendship, and community. We share in their journey and know them better. We come alongside them as we walk together through life.
Building connections takes time to nurture the relationship, courage to be vulnerable, and trust to grow love and compassion.
Don't forget to download your free PDF "The Introvert's Guide to Community" by clicking the button below.
Next week we will explore community more about building bridges through the power of questions and listening. Another week let's dive into the difficulty when community hurts and doesn't work – a reality we all face at times.
Let's talk about community. Why do you think this is such a need in our culture? How can we build better, stronger communities? Let's share some ideas.
You can read the rest of this series here: