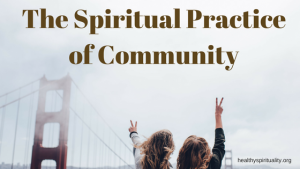 Community – Community has been the August's Tending the Holy Thursday theme. Each month on my Thursday posts, I pick one theme (or person of faith) to explore in depth over several weeks.
The past three weeks, we have explored this topic by looking at the spiritual practice of community, how to build community through questions and listening, and ideas about living with community in times of conflict and confusion.
Today I am sharing quotes about community. Pick one or two to take into your prayers. Copy them into your journal and write out how the words resonate/challenge you. Bring one quote to a small group or when you have dinner with friends for discussion.
17 Quotes about Community
I know there is strength in the differences between us. I know there is comfort, where we overlap.
Ani DiFranco
With all things and in all things, we are relatives.  
Native American (Sioux) Proverb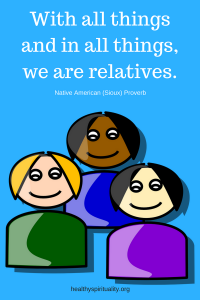 We were born to unite with our fellow men, and to join in community with the human race.
Cicero
The community of the saints is not an 'ideal' community consisting of perfect and sinless men and women, where there is no need of further repentance. No, it is a community which proves that it is worthy of the gospel of forgiveness by constantly and sincerely proclaiming God's forgiveness.
Dietrich Bonhoeffer
Make a bed for the children of other people in the place where your own children sleep.
Moroccan folk saying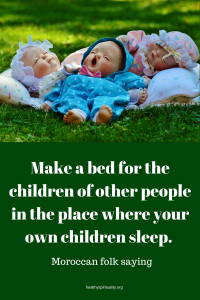 However, community is first of all a quality of the heart. It grows from the spiritual knowledge that we are alive not for ourselves but for one another. Community is the fruit of our capacity to make the interests of others more important than our own. The question, therefore, is not 'How can we make community?' but, 'How can we develop and nurture giving hearts?'
Henri Nouwen
The seven of us on board [the Space Shuttle] represented five different religions.  But we were all agreed – it just doesn't make sense how people on earth treat each other.  It doesn't make any difference what language we speak.  It doesn't make any difference what country we come from.  It certainly doesn't make any difference what the color of our skin is.  We are all children of God traveling on spaceship earth together.  
Jake Garn
As we become increasingly aware of our global interdependence as a species, we can also deepen awareness of our spiritual interconnectedness. We cannot live in total isolation. The crosscultural communion of awakened souls may be a key to cocreating a sustainable future and living in harmony with the earth.

Frances Vaughan
It feels good to be in a community. Community, above all, is bigger than individuals–we are something much more than individuals when we are part of a community. And this is how things ought to be.
Tony Blackshaw
I was taken by the power that savoring a simple cup of coffee can have to connect people and create community.
Howard Schultz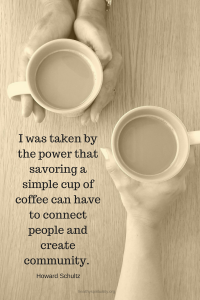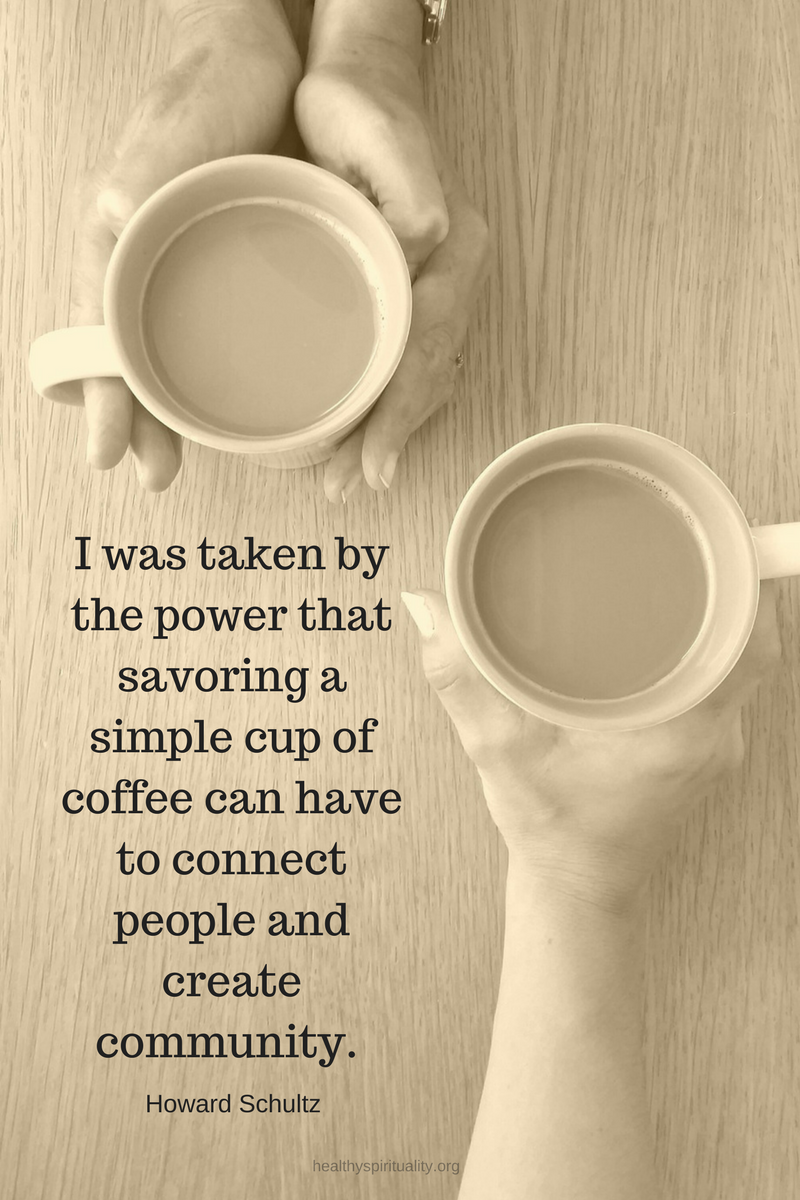 We are called to be strong companions and clear mirrors to one another, to seek those who reflect with compassion and a keen eye how we are doing, whether we seem centered or off course … we need the nourishing company of others to create the circle needed for growth, freedom and healing.
Wayne Muller
Keep in mind that our community is not composed of those who are already saints, but of those who are trying to become saints. Therefore let us be extremely patient with each other's faults and failures.
Mother Teresa
Some people think they are in community, but they are only in proximity. True community requires commitment and openness. It is a willingness to extend yourself to encounter and know the other.
David Spangler
Each of us must rededicate ourselves to serving the common good.  We are a community.  Our individual fates are linked; our futures intertwined; and if we act in that knowledge and in that spirit together, as the Bible says: "We can move mountains."
Jimmy Carter
Individuality doesn't just mean individualism—standing alone. It means developing one's unique gifts, and being able to share them for the enjoyment of oneself and others.
Frances Moore Lappe
Never doubt that a small group of thoughtful, committed citizens can change the world; indeed, it's the only thing that ever has.
Margaret Mead
The first service one owes to others in a community involves listening to them. Just as our love for God begins with listening to God's Word, the beginning of love for others is learning to listen to them. God's love for us is shown by the fact that God not only gives God's Word, but also lends us God's ear.  . . . We do God's work for our brothers and sisters when we learn to listen to them.
Dietrich Bonhoeffer
Each month I also include a free download to accompany the month's topic. Since I am an introvert and find creating, dealing, and being in community challenging at times, I created a one page "The Introvert's Guide to Community," with 15 ideas how to practice this spiritual discipline. This PDF is available at no cost by clicking the button below.
This wraps up on series on community. What did you learn? Which quote struck you to take privately or with others for more exploration? What is your next step to build community?