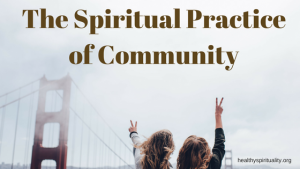 Community – Community is August's Tending the Holy Thursday theme. Each month on my Thursday posts, I pick one theme (or person of faith) to explore in depth over several weeks.
The past two weeks, we have explored this topic by looking at the spiritual practice of community and how to build community through questions and listening. Today let's talk about community when it is difficult – in times of conflict and confusion
Each month I also include a free download to accompany the month's topic. Since I am an introvert and find creating, dealing, and being in community challenging at times, I created a one page "The Introvert's Guide to Community," with 15 ideas how to practice this spiritual discipline. This PDF is available at no cost by clicking the button at the end of this post.
Building Community in Times of Conflict
Living in community isn't always easy. People are not perfect and we are not always the cause of difficulty but being honest, many times we contribute to the tension.
No sooner are people together than they begin to observe, judge, and classify each other. Thus, even as Christian community is in the process of being formed, an invisible, often unknown, yet terrible life-and-death struggle commences.
Dietrich Bonhoeffer
We argue over silly things. Unimportant things. First world problems. And the ever difficult problem with  miscommunications.We shout to regain a sense of control over circumstances full of fear and powerlessness.
We see the world from only our experience and point of view, finding it difficult to accept another's perspective and reality.
Whenever a group of people gather, more than one opinion will rise.
At times, I think I prefer to be by myself than in community. But together is a gift from God and we learn, grow, and shine better with others, polishing, helping and yes even irritating us.
A couple of years ago at a retreat I told my spiritual director about the ache in my heart about a recent misunderstanding with another. The incident sat in my stomach and my heart like rotten food – I couldn't shake the feeling. I stalled and sulked in frustration instead of shifting to forgiveness.
She listened. We prayed. In community with her we talked about what blocked my moving on and letting go of this immobility.
She gently asked if it was more of my ego, than the incident.  The truth emerged – she observed correctly. I was sulking in self-pity, long after time of healing. Once I realized this, peace took over and I forgave – both the person with whom I tussled and myself who made it worse.
Sharing, trusting, and participating in community helped me heal and move forward.
How we handle conflict in community in a positive way creates a healthy environment for all to thrive.
Community Conflict is Often Not About Us
Our weekly discussion at Weight Watchers last week, focused on the stigma of being overweight. Quite a few of us shared that when we walked into a room we think others are staring, shaming, and slamming us for being fat.
We laughed in our common community experience, then all agreed that most of the time others are not condemning us.
We think it is about us – when others are talking, may casually look our way, or their facial expression communicate a negative.  More often, the conversation isn't about us. Their frown is due to an incident on the freeway or hours before at work or home.
Assumptions and expectations distort and deceive truth and trust.
[bctt tweet="Assumptions and expectations distort and deceive truth and trust. Jean Wise" username="Jeanwise"]
When we realize this about community, we are less defensive and become willing to build community. The tools of reflection and openness simmering in God's grace foster bridges, not barriers.
Community Conflict Can Be About Us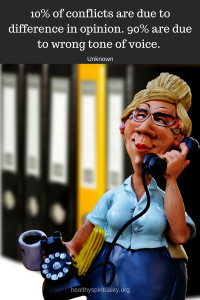 People can be bullies. I think adults are just as guilty as children when it comes to gossiping, creating a sense of "us, not you," and intimidating others. We all need to take a lesson in anti-bullying.
My mama would repeatedly remind me it is not our place to judge. Only God does.
People tear down others in an attempt to heal their own egos. What a terrible cost to pay – nothing is ever gained in criticizing and belittling. Sadly, churches are one spot this practice is worse. Maybe we feel holier than thou or more vulnerable or even safe within those walls, so find in easier to disparage another person's good efforts or past ways of living.
Conflict like this is rooted in miscommunication. The one judging doesn't hear, understand, or even want to know the facts. The one on the receiving end only hears one aspect of the conversation, and not later when more of the truth is revealed. They continue to be stunned by one point in time. The negative experience chokes all confidence and compassion.
A Christian community either lives by the intercessory prayers of its members for one another, or the community will be destroyed. I can no longer condemn or hate other Christians for whom I pray, no matter how much trouble they cause me. In intercessory prayer the face that may have been strange and intolerable to me is transformed into the face of one for whom Christ died, the face of a pardoned sinner. That is a blessed discovery for the Christian who is beginning to offer intercessory prayer for others. As far as we are concerned, there is no dislike, no personal tension, no disunity or strife, that cannot be overcome by intercessory prayer. Intercessory prayer is the purifying bath into which the individual and the community must enter every day.
Dietrich Bonhoeffer
The tools we need in this conflict is prayer and clear communication held firmly in God's grace.
Community Conflict Can Be Our Fault
We too are imperfect. Our egos protect us and demand a voice. We keep quiet for so long in the fact of real or felt injustice, we finally explode. The frighten child within us reacts and reduces our souls to tears and tantrums.
We make mistakes. We become the one who tear down community and create walls, not bridges.
We need acknowledgment of the conflict, how we contributed to the struggle and forgiveness on all side. Ask for pardon, accept mercy, and forgive others and ourselves.
Forgiveness is a valuable tool in building communities. Then the grace, God's grace, to humbly forgive and live in reconciliation.
Forgiveness is an act of the will, and the will can function regardless of the temperature of the heart.
Corrie ten Boom
Community Conflicts Continue

Conflicts are natural parts of our lives. Conflict within community will continue. The tools of reflection, openness, prayer, communication, and forgiveness – all bathed in God's grace – won't prevent problems but will speed up healing.
Remember not all conflicts are bad either. Conflicts awaken a community to an injustice and spur action to amend the wrong. Conflict can lead to creative solutions. Conflict refines our rough edges and reminds us to rely on God, not our fragile, whiny egos.
Conflicts are not always resolvable either. Process takes time and people enter and leave at different points of transformation. The devil loves to stir up the confusion too. Some things can't be changed and damage is done. We carefully pick the battles to stay in and those we leave behind to enter new territory.
Conflict can transform and build our capacity to grow and become who God calls us to be.
Don't forget to download your free PDF "The Introvert's Guide to Community by clicking the button below.
What has conflict taught you about community?  Share other tools you would add to this discussion about conflict in community.