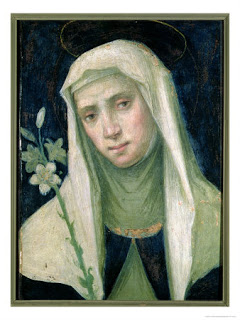 Each year on April 29, many churches remember or commemorate
Catherine of Siena
.
Commemorate means r
ecognizing and learning from the lives of exemplary Christians throughout church history
. Until a few years ago I never heard of this fascinating lady, Catherine of Siena, and she has much to share with us today.
Catherine of Siena

lived during the chaos and violence of the fourteenth century, a time of the Black Death, famine, and numerous civil wars. Catherine was the 25th of the 26 children of a northern Italy wool dyer and was born in 1347 at Siena, Italy.
Catherine claimed to have had her first vision of Christ when she was aged five or six. He smiled at her and blessed her. At age seven she vowed chastity, but that was not unusual among little girls at the time, and they were not supposed to keep the vow once they reached puberty. A girl was regarded as marriageable at twelve, which implied that she took an interest in wearing make-up and bleaching and curling her hair. Catherine however did nothing of the kind.
When she was 19, she had another mystical vision and acted as a nurse, caring for lepers and victims of the plague, the victims others would not care for.
About this same time, she joined a Dominican Third Order group (lay women loosely affiliated with the order), most of whose members were widows with independent means.
Catherine then became political active believing Christ called her to reform the church. She was an activist in an age when a woman's religious vocation was supposed to be confined and apart from the world.
Catherine traveled in the area around Siena, trying to make peace within and between cities. She founded a monastery for nuns, though she herself remained in the lay Third Order. She continued to write letters to her followers, to her critics, and to anyone who could help in her goal of reform. She also began to write Libro della divina dottrina (sometimes called
Diologo

), setting down her spiritual doctrine in the form of a conversation between God and a soul.
She worked tirelessly for reconciliation and peace, writing countless letters to popes and kings convincing them to end the Great Schism of the West. In spite of her sometimes chiding letters to Pope Urban VI, Catherine was summoned to Rome to serve as his advisor. She died in Rome at the age of 33.
Died at 33?

 

Think of all she accomplished.
She labored for peace, reform and renewal of people and the church.
She battled popes and kings with courage draw from heaven.
She deeply desired and sought after intimacy with Christ.
She not only comforted the sick and poor and those often ignored and rejected by others, she loved them
She was a writer and used her words to serve God.
She totally trusted God and lived a life of complete surrender to Him.
Quite a woman – from a different time and world but still a role model for us.
Nothing great is ever achieved without much enduring.
To a brave man, good and bad luck are like right an left hand. He uses both.
Be who God meant you to be and you will set the world on fire.
Every step of the way to heaven is heaven.
Nails were not enough to hold God-and-man nailed and fastened on the Cross, had not love held Him there
What do you think of Catherine?