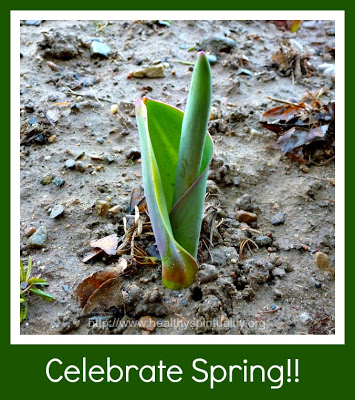 April has finally arrived. I don't know about you but I need, really need spring.
I want to open my windows, replacing the stale furnace air with Ohio warm breezes.
I need to see new life springing up from the earth and bursting at the tips of branches.
I love to watch the birds frolic in the backyard and create homes in nests built with scraps and broken leftover pieces.
Spring reminds me that no matter how dark, dreary and long winter is, hope will come again. Spring is God's reminder He will come again.
To celebrate Spring's arrival, I want to roll down my car window and hang my head out like dogs love to do.  Instead I behave and yell, "Welcome" as loud as I can on a stretch of the road where no one can hear or see me.
I smile at Spring's invitation to rejoice and dance with delight with the Lord.
My heart spills with gratitude for resurrection.
Guess what I am,
He says in his
from under the pure white
and now finally melting
Whatever we know or don't know
Teacher, what do you mean?
But faith is still there, and silent.
and I follow,
obedient and happy.
Of course I am thinking
the Lord was once young
and will never in fact be old.
And who else could this be, who goes off
down the green path,
carrying His sandals, and singing?
I love this poem by Mary Oliver and think I too will kick off my sandals, and walk with the Lord, singing down the green path.
Can you tell Spring is my favorite season?
What is your favorite season?