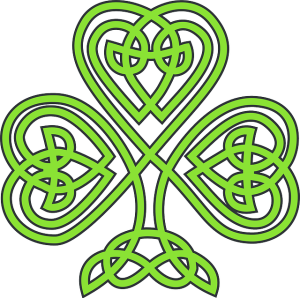 Celtic Christianity 
Exploring Celtic Christianity will be the topic for this month's Tending the Holy Thursdays – a fitting subject for March and all the Irish among us.  I am half Scot/Irish, so know there is a little green blood in me. Any other Irish here?
With five Thursdays in March, I have an extra day to dive into this interesting piece of Christian history we have. This week I am going to feature someone I never heard of before until about a month ago and thought her story would be worthy to share. Of course we will hear from St Brigid and St Patrick and few other Irish tidbits.  Since I have been traveling I don't have a free item yet for you to download to add to this study, but watch for it coming up in the next few weeks.  UPDATE: Click the button at the end of this post for a free pdf of 10 Celtic Blessings to share with others.  I think you will enjoy it.
So "top of the mornin' to ya" – let's study the Celts and see what we can learn from them to nurture our faith.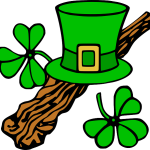 St. Gobnait
Ever hear of St. Gobnait?  Me neither.

St Gobnait is one of few women Irish saints we have and she lived around the 5th– 6th century. She is known as the saint for bees and beekeepers. "Gobnait" is Irish version of Abigail – to me a much nicer sounding name.
Legend tells she left her family home due to all the feuding going on among them.  She settled on an island where an angel visited her telling her she would spend the rest of her life at the place where she would find nine white deer grazing. She left and began her search for her new home.
The angel told her this new place would be her "resurrection place." She did find her home in southern Ireland in a town named Ballyvourney.
Celtic mythology believed the soul departed the body as a bee or a butterfly. Bees have long held an important place in Irish culture. St Gobnait used their honey for its curative properties.  She became well known for her care of the sick.
Other stories of her arose. It is said she cured a nun who was sick and another that she kept the plague away from her town by drawing a line along the borders of the parish with her stick.

She prevented invaders from stealing their cattle by releasing her bees. Folklore also tells she turned a beehive into a bronze helmet and the bees themselves turning into soldiers to protect her home.
Pathos published an interesting article about her last month since February 11 is her feast day. See it here.
Christine Valters Paintner writes: "There is a deep and rich tradition among the Irish monks to seek out the place of one's resurrection. This was done through the practice of peregrinatio, a setting sail without oar or rudder to let the currents of love carry you."
St Gobnait shows us to listen to our hearts to find our home and once there do all in your calling to love and protect it.
The bee is small among flying creatures,
but what it produces is the best of sweet things.
(Sirach 11:3)
Since St Gobnait searched for her resurrection home I think closing with an Irish House Blessing is appropriate:
Bless This House
Bless this house, o Lord, we pray.
Make it safe by night and day.
Bless these walls so firm and stout,
Keeping want and trouble out.
Bless the roof and chimney tall,
Let thy peace lie over all.
Bless the doors that they may prove
Ever open to joy and love.
Bless the windows shining bright,
Letting in God's heavenly light.
Bless the hearth a-blazing there,
With smoke ascending like a prayer.
Bless the people here within…
Keep them pure and free from sin.
Bless us all, that one day, we
May be fit, O lord, to dwell with Thee.
What is your favorite Irish saint?
I created a "10 Celtic Blessings for your Journey" PDF for you to share a blessing with others. Just click below for your free copy.