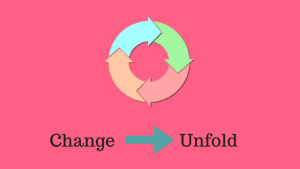 Snuggling deep into my comfort zone, I like to know the what, when and how the future will unfold.
Change makes me nervous. Powerless. Not in control. Even the sense of fear creeps in when something new comes or circumstances adjust my well ordered plans.
I have faced this issue before as you can read in this
post.
Yet life is change. So is Advent. I wrestle with the question that lingers this time of year: 
How will my heart be transformed by Advent?
I should be writing words about trust, faith, and God is in control, but I want to be honest. Mixing things up, finding new ways, trying different perspectives is all difficult.
This morning I played around with different words describing change that may soften my opposition. I know just a silly mind game, but one I am hoping will help.
Adapt
Alter
Correct (YIKES!)
Evolve
Transform
Turn
Veer (off track most likely crashing into the unknown)
Revamp
Shift
UNFOLD
I will relax and see what unfolds. Doesn't that sound peaceful? A steady, slow evolving of my spirit almost like a rose opening to receive the sunshine.
UNFOLD
My spirit stays open to receive the Christ Child and to drink the wonder of the Good News of peace of earth and good will to men.
UNFOLD
My hands and heart spread out, reaching out to others in compassion and generosity.
UNFOLD
To be open to change that God creates within me and listen to the angels telling the shepherds, "Do not be afraid."
UNFOLD
To ponder a mother's arms unfolding to cuddle the newborn King, just a God wraps his arms around me assuring me in change or with no change, he is with me and I remain within his protective control
I resist and am nervous about change, but UNFOLD invites, excites and draws me into arms of the One who never changes.
How will Advent unfold for you this year?
PS – I began to think about change this morning due to an upcoming transfer of this blog.

 

Blogs are based on different types of software platforms. I am having this blog moved from Blogger to WordPress and THE CHANGE will happen December 12.

 

The goal is for you as the reader never to be lost, missing or really not noticing too much of a difference. That's what 'they" tell me.

 

BUT just in case you can't find me the end of next week just go to a search engine and put in www.healthyspirituality.org and we will connect again.

 

Hopefully this change will UNFOLD just the way the movers describe and we meet on the other side. Sigh, change…
PPS – Addendum 4 years later – I love WordPress and so glad I made the switch.  And I continue to UNFOLD in this wild every changing adventure of life!