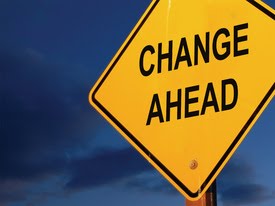 "The illiterate of the 21st century will not be those who cannot read and write, but those who cannot learn, unlearn, and relearn."
Alvin Toffler
The quote above challenged my thinking this week.
Change is occurring at a faster pace all the time. We are called upon to adapt, let go, and learn new technologies, systems, and patterns. I try to grasp a moment of time, but reality slips from my hand as the spinning disorients my thinking and steals my breath.
I don't know about the rest of you, but sometimes I just want to dig in my feet and say, "NO MORE!!" I slam on the breaks and my shifting gears grind to a stop.
I suffer from change fatigue.
Sigh.
What frightens me is the study I read once that discovered one of the most common characteristics of people who lived to be 100 was their adaptability.
Do you think resisting change is a cause of death?
If not, that form of stubbornness probably leads to a miserable life.
The reality is that the foundation of life is metamorphosis or change. We grow older, though I am sure I still look 28 and my, my have my friends aged lately.
The seasons continue their onward march, not following my wishes for a longer summer and shorter winter.
Kyla, my granddaughter, shows off her new teeth and says new words each day. A lady at church observed the other day, "You don't have a baby anymore. She has become a toddler overnight."
The Toffler quote, though, energizes me.
"Change" sounds so tiring, overwhelming, and over done.
I thrive on lifelong learning so to "
unlearn and relearn"
opens up possibilities.
I like that phrase.
And I certainly don't want to be called illiterate. And I don't want to die at such a "young" age.
I am reframing any new change I currently face. I am relearning new ideas and reshaping my thinking.
Learn, unlearn and relearn
.
What do you think?