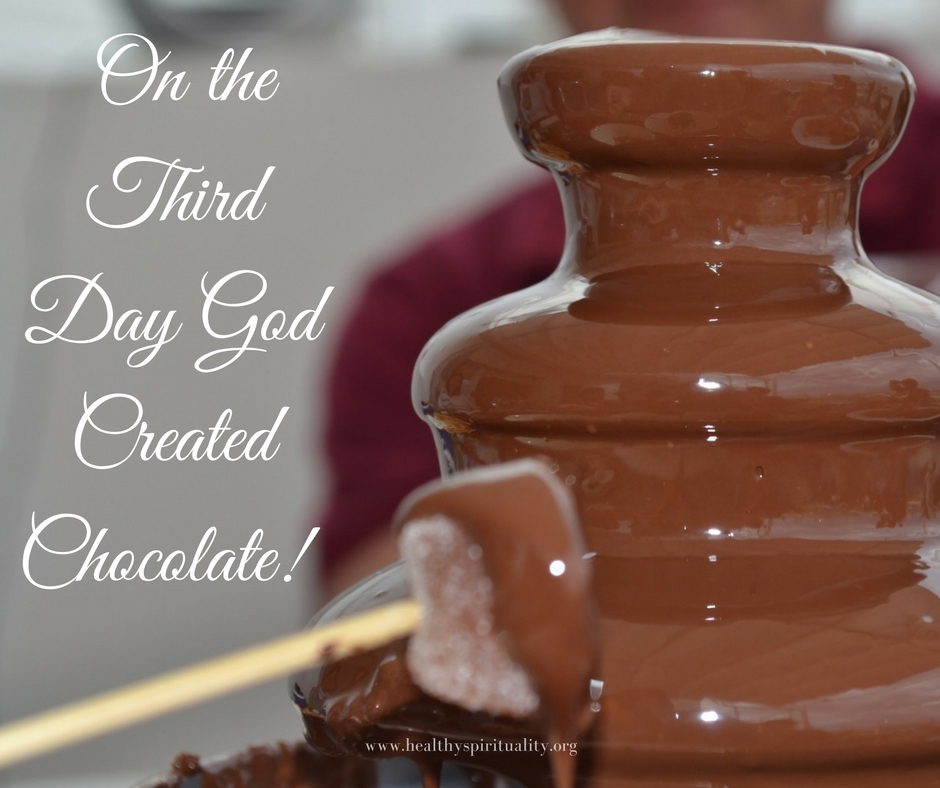 Chocolate. One of the world's most favorite flavors.
Let's have some fun today and forget the troubles of this earth for a few minutes
Did you know today, July 7 is World's Chocolate Day?  Now October 28 is National Chocolate Day, but I am all for celebrating with chocolate more than once, right?
In fact, I shared last year some interesting trivia about this delicious taste.  https://healthyspirituality.org/chocolate/
One of my most requested topics as speaker and retreat leader is called "What Chocolate Taught Me about God." This the story I tell at the beginning of the talk and I thought today would be a great day to share this:
~~~~~~~
What Chocolate Taught Me about God
God decided one week to be creative.
After the first day of work when he returned to heaven, Michael, the archangel, asked him, "What did you do today, Lord?
He answered, "I made light and darkness, and it is good."
After a second day of work, God sat down with Michael and told Michael that on that day he separated the waters and made the sky and is was good.
The third day it was getting rather late, Michael was worried. It isn't like God to be late, you know. Finally the Lord appeared, skipping and happy, showing all sorts of signs of joy.
"What did you do today Lord that made you so happy?"
"On this third day, I separated the water and made the dry ground appear, and then all the vegetation began to grow."
"Oh," said Michael, "all the brown stuff on your hands and face, is dirt then?
"Oh no," said God, "this is chocolate. It is great stuff and it is very, very good."
"How are you ever going to top that creation Lord?"
"Mmmm, let me think about that for a few days," replied God.
On the fourth day God made the sun and the moon and it was good.
Still thinking, the fifth day, He made animals, birds, creatures of the sea and it was good.
And on the sixth day, He said, "let us make man in our own image." And He did make man and woman and gave them all the things of the earth to take care of. The Bible even mentions God gave them all seed bearing plants. Genesis 1:29 – "I give you every seed bearing plant on the face of the earth and every plant that has fruit with see in it." – that is chocolate plant.
He looked over everything he had made and it was good, so very good.
**********
Prayer
I praise the Lord for His creativity – snails, sea horses, and stink bugs.
I praise the Lord for His wisdom – the sun to provide light and life and waters to nourish us.
I praise the Lord for starting it all – the order – rhythm of the tides, the pattern of the seasons, and beauty in His rich color palette.
I praise God for the lessons I learn in the waiting and rest of winter.
I praise the Lord for spring – time of new births, fresh air, and renewed spirit.
I praise the Lord for seeing to the details that enrich our lives beyond measure – the smell of a newborn baby, the smile of a 99-year-old friend, the laughter of families together, and yes, the yummy taste as sweet chocolate as it melts in our mouths.
I praise the Lord for who He is – Creator God.
How will you celebrate chocolate today? What is bringing a smile to your soul in this current season?