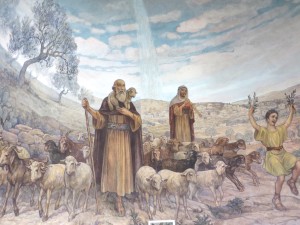 The shepherds are my favorite group of Christmas characters. I think if I could choose to be at one place during that miraculous event or be one of the characters myself – it would have been the shepherds.
I love their enthusiasm.
Their willingness to go.
How they told others the good news.
I have been rereading slowly the Christmas story as part of my Advent preparation, finding new insights and lessons. What did the shepherds show me this year?
"So they went with haste and found Mary and Joseph, and the child lying in the manger".
Be open to change – I resist shifts in my plans. I get my to do list ready, my trajectory in line and I start. Don't stop me once I begin my routine. I hate getting sidetracked. But the shepherds knew better. They knew God likes to surprise us and reminds us He is in charge. And what a gift to follow God's unexpected leads in life. One night, one moment in time one powerful encounter with God will forever change our lives if we only follow and surrender and amend our plans into His.
"Let us go now to Bethlehem and see this thing that has taken place, which the Lord has made known to us."
Be open to curiosity – The shepherds were curious; they wanted to see with their own eyes what the Lord told them. Curiosity can lead to profound spiritual experiences. I wonder how often we miss out on extraordinary spiritual experiences because we don't check it out. Imagination and wonder are tools that open God's world to us. Read the Bible, hear a sermon, listen to a friend's words – and wonder "what if…"
"This will be a sign for you: you will find a child wrapped in bands of cloth and lying in a manger."
The angel told them what to look for, but they still had to follow the signs. They were given clues but still had to look. This reminds me to pay attention. Look. Follow. Obey. The shepherds had to decide on their own what to do with what they heard. There have been times I really wish God would be clearer in showing me what to do or when or how to act, but he does provide signs, nudges, whispers – I need to find them and follow.
"When they saw this, they made known what had been told them about this child; and all who heard it were amazed at what the shepherds told them."
We all need to tell others the good news. God uses ordinary people. Quietly doing their jobs. No one should ever feel too small or too insignificant to win the attention of Christ. It doesn't take a seminary degree to tell Jesus' story. We all can tell others in our words, our actions, our thoughtful gestures – that Jesus, the Messiah has come.
"The shepherds returned, glorifying and praising God for all they had heard and seen, as it had been told them."
I have often wondered what happened to those shepherds after such an experience. An encounter with God like this must have transformed them deeply. Wouldn't you have wanted to stay with the holy family? Linger in Bethlehem longer? Yet the shepherds returned to work, to their homes, to their smelly sheep and unglorious grind of everyday duties. And they continued their work with joy. They kept working, even through the dark cold third shifts of life. They knew God came to them in the darkness and continued to stay with them in every moment. The shepherds taught me this year that God can and does come when I least expect and when I am lost in the murky confused valleys. God is present in my work, even the tiniest mundane particulars and to do's. And that invites me to Joy, his joy in the details of life.
Listen again this week to these well-known verses from Luke. What have you heard or felt different about the Christmas story this year?